Two Bites Orlando Fishing Report
Kayak fishing two days this week I managed two bites, thus the Two Bites Orlando FIshing Report.
Those readers who do not subscribe and have wondered where I've been, my last two reports came from Louisiana and can be accessed here: -http://www.spottedtail.com/blog/venice-la-fishing-report-and-photo-essay/
http://www.spottedtail.com/blog/the-res ... oto-essay/
Upcoming Events
-Space Coast Birding and Wildlife Festival- the largest birding and wildlife festival in the United States! January 20-25 at Eastern Florida State College - Titusville campus, 1311 North US 1, Titusville.
http://www.spacecoastbirdingandwildlifefestival.org
Fishing!
Mike Conneen and I got back from Louisiana Sunday night. Unpacking etc. took place Monday. Photo work and thank yous took place Tuesday. Errands happened Wednesday. There were more errandy things to do Thursday, but it was so nice out I tossed a kayak on the roof of the van and went to the Indian River Lagoon.
Fishing was not hot. I saw a handful of fish. Incredibly, one was tailing and rooting around. Using advanced hoping-for-the-best skills, I tossed a black bendback out where I guessed the fish would be. It was quite a surprise when the line came tight!
A bigger surprise was the size of the fish. It was pushing 20 pounds, a real nice fish. Welcome home!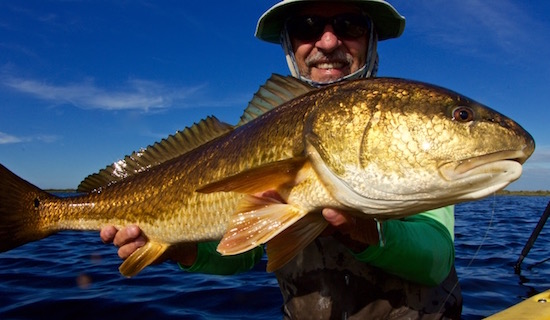 After a couple photos the fish swam off.
I made one cast, and got one fish. A good afternoon's work!
After more errands on Friday I decided to try fishing out of River Breeze on Saturday. The water is still a foot higher than I like it, and it's still real dirty. Expectations were low.
A total of seven redfish were seen, most close enough to be touched by the paddle. I got one shot and hooked and caught the fish. The fly was a Bouncer Fly,
http://www.bouncerflies.com/home.html
shown to me last summer in Alaska by the developer, Steve Duckett. This red was much more modest size-wise than Thuursday's fish but almost as satisfying emotionally. Again, a couple photos and off it went.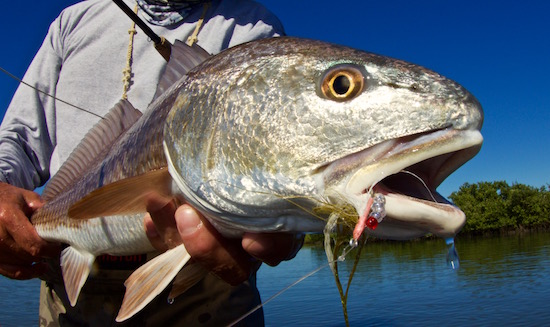 I made one cast, and got one fish. A good afternoon's work!
And that is the Two Bites Orlando Fishing Report.
Life is great and I love my work! 
Life is short- Go Fishing!
John Kumiski
www.spottedtail.com
http://www.spottedtail.com/blog
www.johnkumiski.com
www.rentafishingbuddy.com
https://www.smashwords.com/profile/view/jkumiski
All content in this blog, including writing and photos, copyright John Kumiski 2015. All rights are reserved.
---
Thanks John for the report.
I was looking quizzically at the thing in that reds mouth - till I read your description.
Bouncer flies. I like the idea.
Dave
the bus came by and I got on
that's when it all began
---
Those bouncer flies technique looks like it is worth a try. I can see lots of applications! Wooly buggers for one for freshwater trout!
expelled by el Compressor
Emerson
---
t's a really clever idea! beads are pretty inexpensive at the craft store, too.
---
Hi John,

That's a couple of nice reds! We don't see many like that here in VA. At least I haven't.

I read your posts here and have read a lot of your book on fishing in FL. Good stuff. I will be in the Ocala area for about a month beginning next week. Checking on the map for nearby salt water fly fishing, I noticed that Homosassa is about a thirty minute drive from where I'll be, On Top of the World. Is there any good wade fishing in that area in late January or February? Considering the warmer weather we have had so far, I'm hoping the answer is yes.

Thanks in advance,

Joe AKA JuneBug
---
i'm afraid i don't know the answer to that question as i have not been to homosassa in quite a while. any time i went there we always used a boat. the fishing grounds are a long way from town, or the end of the road

i don't think there's any wading there, though, except for maybe a place called ozello

i would be interested in hearing about what you find, though!

good luck

jk
---
John,
Thanks for your quick and honest reply.
I think I'll check out a few of the local fly fishing shops in the area. Hopefully, they'll have up to date information and can point me in the right direction.
Joe
---
Return to Saltwater Near and Far
Who is online
Users browsing this forum: No registered users and 1 guest