Posts: 1521
Joined: Tue Apr 14, 2009 2:05 pm
Location: Johnny Madert ---- St. Michaels, MD
While most people are looking to catch the largest fish, I sometimes go in the opposite direction. Now I've done this many times, but today wanted to test my one material fly. Just chartreuse thread ... a little left hanging out past the bend. # 24 TMC midge hook. It worked fine, but I still catch 'em faster wrapping a strand of pearl krystal flash around the shank and use red thread for the head-wrap. The 4-6 inch mummi's are very aggressive, just couldn't locate them today.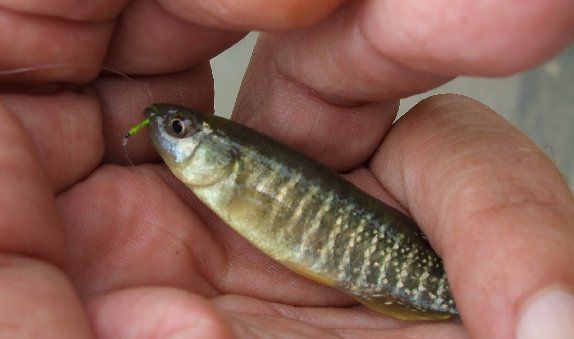 Thanks, Emerson ... a 3 turn clinch was much easier to tie. If you look closely you'll see a critter smaller than the fly ... clinging to the bottom of the mummi's right gill flap.
---
Great job LJMMMLB!!
I totally agree..love catching ALL of the items possible!
expelled by el Compressor
Emerson
---
---
Very Nice John!
is there an IGFA record in there?
Dave
the bus came by and I got on
that's when it all began
---
That has got to be the coolest thing! never would have thought to even try that.

J
---
Hello! Very interesting topic, thank you raised it
---
Return to Saltwater Near and Far
Who is online
Users browsing this forum: No registered users and 2 guests