I was so smitten by the musky game last year that I'm heading back to the Hayward WI area for 5 days of fishing with Musky Country Outfitters at the end of the upcoming week, this time with my buddy Blake who some on this board know from Costa Rica trips years ago. I'll file a full reprort when I get back. We are staying at the Boulder Lodge which fittingly has a chain saw log sculpture of a musky at its entrance.
I am sore altready...
---
Posts: 1521
Joined: Tue Apr 14, 2009 2:05 pm
Location: Johnny Madert ---- St. Michaels, MD
Looks like a very cool place, Andy. Kick tail.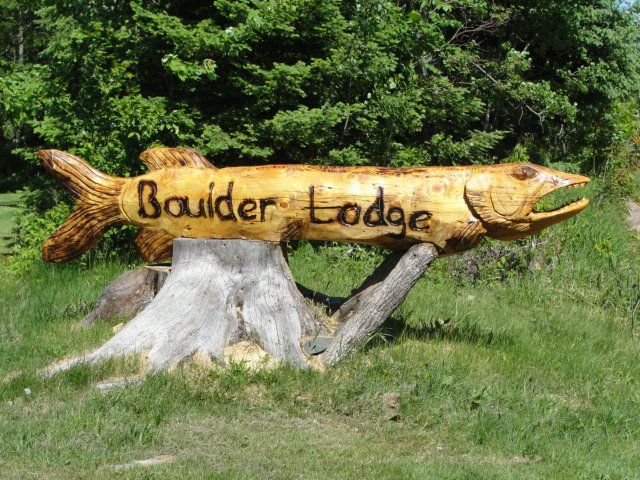 ---
Good luck Andy. Looking forward to the stories
expelled by el Compressor
Emerson
---
Quick report. Fishing was really tough. Water temps this time of year are normally 42-44 degrees. We had temps throughout the water systems of 56-58 degrees. This totally turned off
the musky. Over 5 days, we caught 8 small musky with the biggest at 30ish. Had a drive by at the boat by a big fish (45+) but I did not finish the deal. Brad tried prime water on the Chippewa and Flambeau river systems. Hell we even tried his "honey hole" below a damn--nothing. Lots of really pretty scenary--eagles, bear, turkey, deer--but it was not the result we were looking for in what is generally regarded as prime musky season.
PS: This was two of us fishing hard. And it wasn't just us that experienced the bad fishing--other MCO guides experienced the same results.
Last edited by
AMJohnston
on Thu Nov 01, 2012 12:41 pm, edited 2 times in total.
---
growing old ain't for sissies
Pure-T-Mommicked
---
Boss: I found Blane earlier this year and have talked with him. Hope to be able to hook up with him in the next year.
---
Return to Freshwater Fly Fishing
Who is online
Users browsing this forum: No registered users and 1 guest