Posts: 1521
Joined: Tue Apr 14, 2009 2:05 pm
Location: Johnny Madert ---- St. Michaels, MD
so I went to Uncle Bob's pond. While I drove up Rt 33 I'm thinkin': "now if I was a carp in that pond ... in this stinking heat & humidity, where would I be ?" I figured they might be in deeper water. Maybe 2 degrees cooler at the most. The pond is only 4 feet max.. When I got there I tested the water with my fingers ... "geez, how can anything live in this hot tub ?" I was betting that if I hooked a carp, it would not fight at all ... would just let me slide him up on the lawn. Yes, the farm is very manicured.
I made my way around the little cove to the opposite bank. Fish usually feed there. I stood still with fly (SJW) in hand for a good 20 minutes and saw absolutely no activity ... nada, zippo, zilch. I was gonna cave and head home. Started back to the car on tractor row, but froze in my tracks. "there, right there ... bubbles !!" ... and the bubble-trail was moving slowly right-2-left. It had to be a carp rooting on the bottom. Methane bubbles don't move like that.
I made a cast to the left of the bubbles and past them. Then pulled the worm even with the bubbles but 2 feet ahead of the direction they were moving. Had to be 3.5 feet of water out there. When I was sure the fly was on the bottom, I let it sit ... and waited for the bubbles to get closer. Ooh, ooh, the time is right. I did the slowest strip possible. I saw the line get "straighter" ... and gave it the bonefish "big strip". Yes, something solid ... a hang up ? no, the head-shakes started, a carp.
Like I said, I didn't expect much of a fight ... Wrong !! The fish didn't make any long runs, but rather slugged it out like a redfish. He was not happy. He was able (my fault) to gulp some air twice ... and each time the fight resumed like from the start. Quite sporty on the 5 wt.
I could only handle being out there for one fish. The mini-cooler in the car held slushy ice-water in a gatorade bottle. But, I came ... I saw ... I conquered ... I photo'd.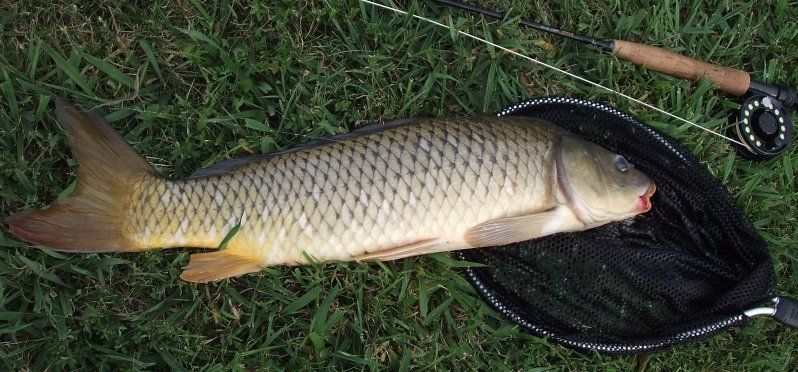 The fish was (as Bill Dance would say) a "slanky" one. Maybe 8-9 lbs.
One of Emerson's extra long SJW's !!
LJMMMLB
---
Well done John!
The world is your oyster-
So show up with a knife and know how to shuck.
---
Super job LJMMMLB!!
The story of the encounter was excellent as well!
expelled by el Compressor
Emerson
---
Return to Freshwater Fly Fishing
Who is online
Users browsing this forum: No registered users and 2 guests