I had the opportunity to head up into Rocky Mountain National Park for some trout fishing a couple of weeks ago. I booked two days of fishing through Front Range Anglers in Boulder, CO. First day I fished with a billy goat of a kid named Andrew. I told Andrew that my only expectation for the trip was to hopefully see some of the amazing sights of the park and maybe pick up a few fish along the way. We started off fishing down in the valleys but eventually focused on fishing high alpine lakes in Dream Lake region of the park. Added two new species of trout to my list during the trip.
View coming into the park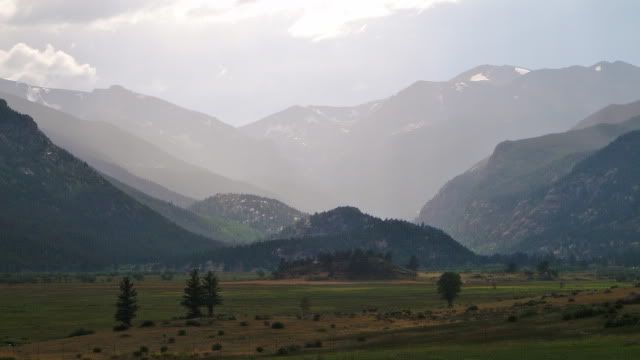 Fished a small glacier fed stream on the way up.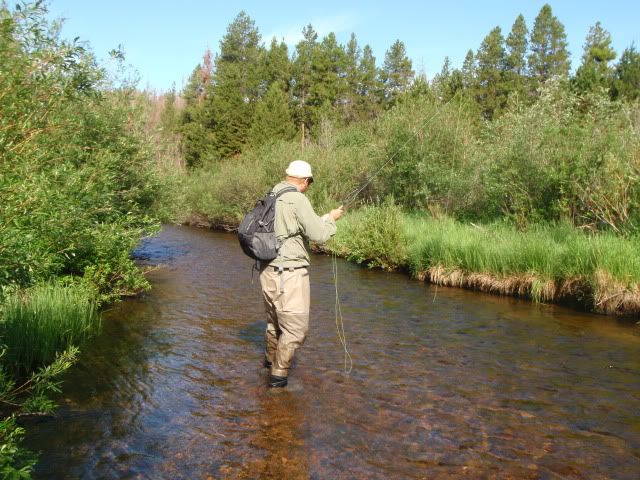 After catching a ton of brown trout we decided to head up higher into the park.
The view on the way up.
The first lake we came to. Though there were no fish here the view was amazing.
We kept moving further up the mountain and came upon a second set of lakes.
the view
We could see fish moving around the edge of the lake in and among some of the blown down trees. Saw a nice cutthroat actively feeding and blasted a cast over to him.
Greenback Cutthroat (New species #1 for me)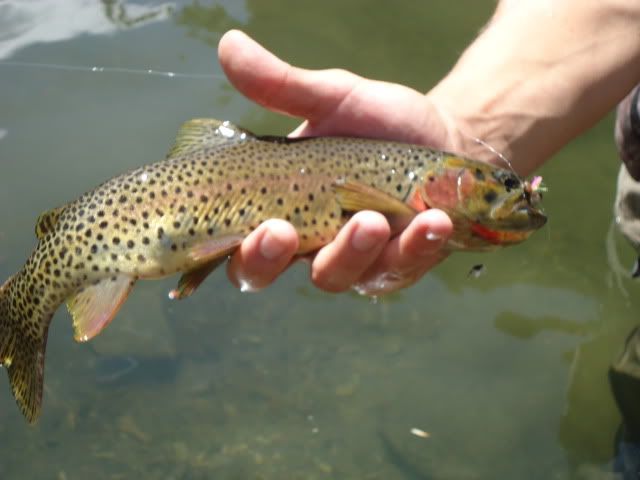 We spent the rest of the day up here picking up some nice cutthroats.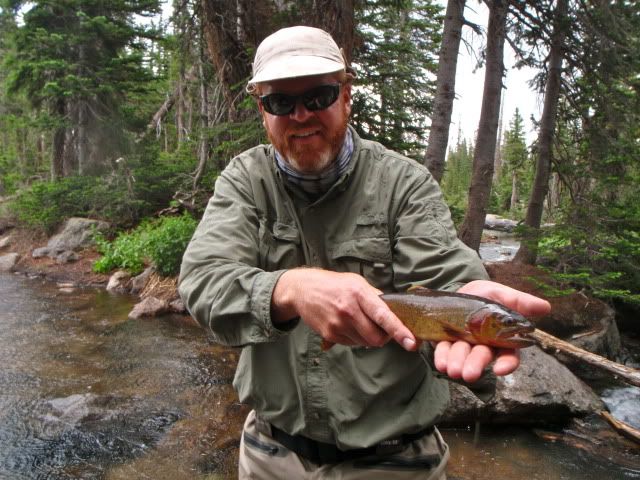 Towards the end of the day I picked up a Yellowstone Cutthroat (New species #2 for me).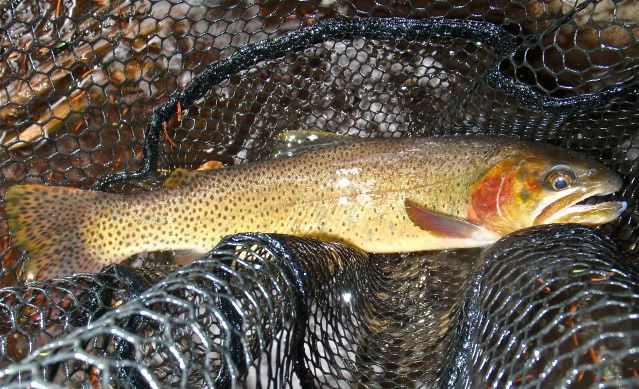 Parting picture of the lake.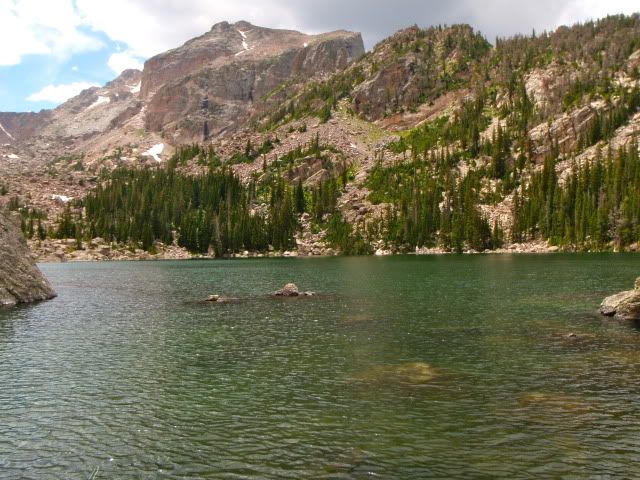 The second day of the trip I fished a small piece of private water along the front range of NE Colorado.
Got some nice pullage here as well.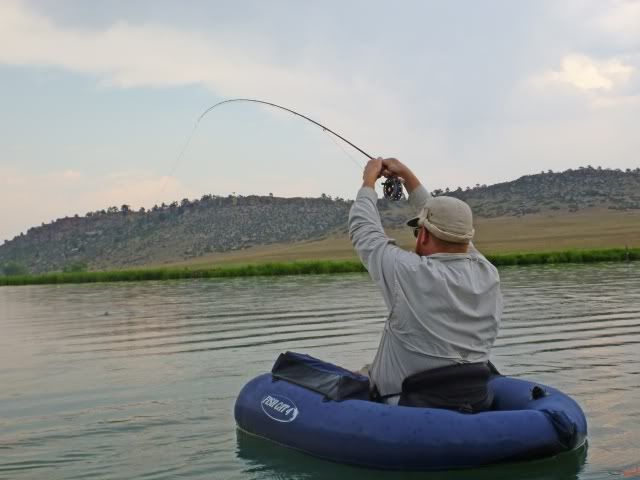 I spent most of the day in a float tube as the temperature was around 110. Needless to say sinking lines and meat flies were the ticket.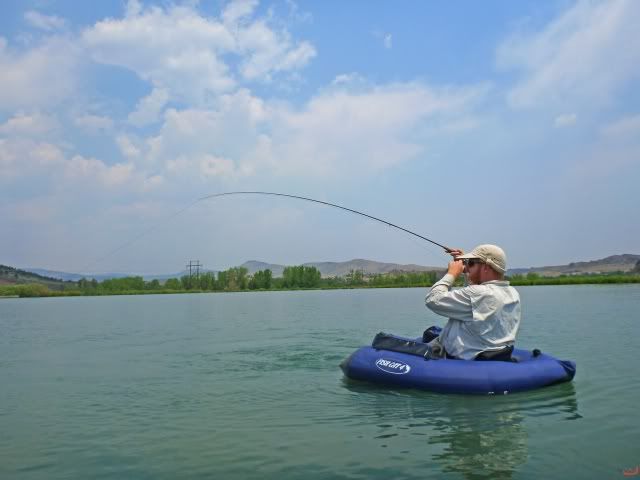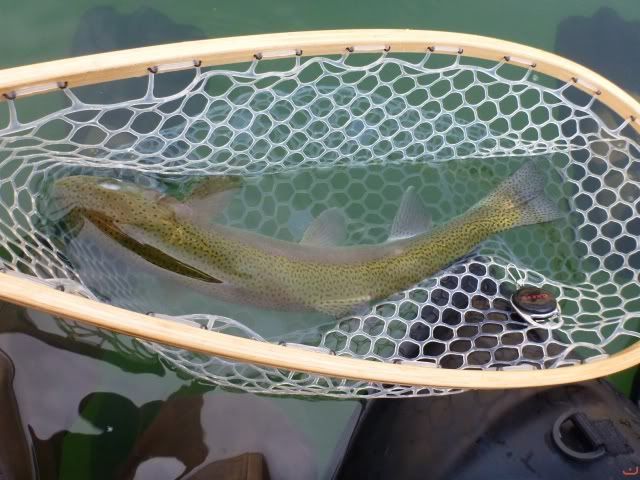 Nice 25 inch pig. Nice fish for a 5wt
Overall I had a great trip out to CO. If you are ever in the Denver/Boulder area try and work in a day of fishing...or two or maybe three.
Cheers,
Chris
---
chris--freaking awesome report --thanks for taking the time to share it with us
growing old ain't for sissies
Pure-T-Mommicked
---
Fantastic pics and what a trip!! How long did it take you to get to that lake on the first day?
Those rainbows are all super!
expelled by el Compressor
Emerson
---
Posts: 1521
Joined: Tue Apr 14, 2009 2:05 pm
Location: Johnny Madert ---- St. Michaels, MD
Very nice trouting.
---
The first day it took us about 3 hours to hike up to the first lake (fished there a while to get acclimated to altitude). Hiked another hour or so to the final lake. Altitude was really felt at the second lake (@~10500 ft elevation). I will say that my altitude affects were not as severe due to the fact that I was in Denver for three days prior to going to higher elevation. While in Denver I made sure to get some good cardio in during the evening when my meetings were over. Also while climbing to higher elevation I made sure to drink a LOT of water and eat a good lunch with lots of CARBS (actually I was feeling pretty lightheaded once we got to the second lake until I actually sat down and ate lunch).

Overall it was a great two days of fishing. I hope to someday make it back out there to do it again.

I will be fishing Yosemite National Park next week (another business trip) so hopefully I get some good pictures.
---
Looking forward to the Yosemite report.....good luck!!!!!
expelled by el Compressor
Emerson
---
That is some great trout fishing! I am short of breath just thinking about those climbs. You earned every fish.

My wife is from Boulder and we used to visit her parents there. I always looked forward to Front Range Anglers - a really nice flyshop.
The world is your oyster-
So show up with a knife and know how to shuck.
---
Great photos. How I do miss living out in CO. Summers are incredible out there
---
EXCELLENT!!!!!!!!!!!!!!!!!!!!!!!
---
Return to Freshwater Fly Fishing
Who is online
Users browsing this forum: No registered users and 1 guest