Visited Knoxville and Norris Lake for the Labor Day weekend and enjoyed incredible weather all weekend. Fished the Clinch in TN on Sunday with a very patient friend in his Hyde boat.
First time I have fished out of a Hyde drift boat and was very impressed how stable the boats are. Also got some time with the oars. The boats are super responsive to the oars except of course when the generated water starts to really crank. Even then you can put the boat where you want it with determination.
As for the fish, we caught several rainbows and brooks on different nymphs. Mind you I have only fished mt. trout a few times and don't know the patterns.
Started out strong thinking a Clinch slam would be no problem, but the browns remained elusive. I did hook and fight the biggest brook my friend said he had ever seen. After a while the bugger went under a tree and broke off the 7X fluoro tippet we were using. After several runs and jumps, it stunk to watch the fish swim under the downed tree and basically laugh at me as he made a strong push to snap the line.
Highlight of the day was finally getting a rainbow to take a dry fly. The water had risen in one location to several feet deep, however there were fish rising, we set anchor. We didn't see anything the fish were keying on though. After several casts with the nymph that had been working, my friend handed me a 4wt with a caddis(?). Several casts resulted in nothing but my friend's patience finally waning. He grabbed the rod and on his second drift, a rainbow finally exploded on the fly only to come undone soon thereafter.
On down the river we went only to find roaring water in the other two spots we were to fish. All in all a great day on the water. My Buddy said it was average to below for the World Famous Clinch River, home of the TN state record brown.
It was nice to catch some fish on fly as I hadn't even cast a fly rod since last fall. Next stop NO, and then back to the coast for hopefully a better fall (for me) than last year.
Typical of most of the fish, although this one had a messed up gill. The plate didn't fully extend.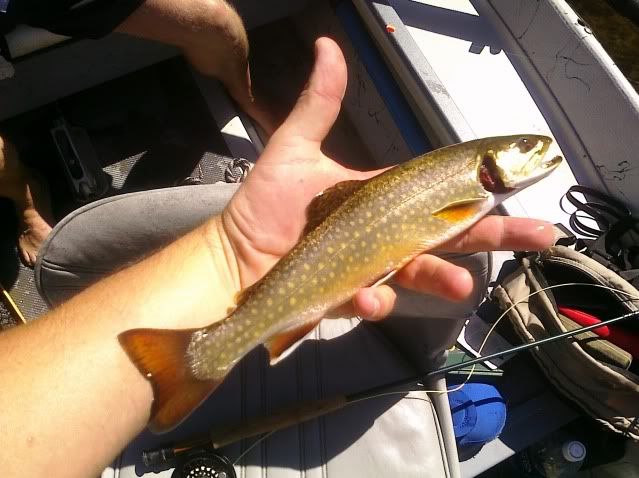 ---
Very cool Trey. Sounds like good times!
Once you kill a cow, you got to make a burger.
---
Return to Freshwater Fly Fishing
Who is online
Users browsing this forum: No registered users and 1 guest