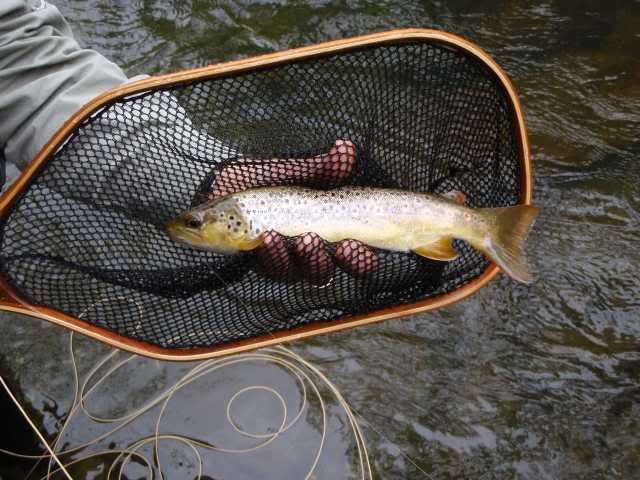 I knew there were wild browns in this little SNP stream but in a dozen trips I had never caught one. So this little gem made my day.....Added a smaller 7-inch brown a little later.
9ft4wt
---
What a beauty.
Jeff G
Generally found under a bridge somewhere.
---
Posts: 382
Joined: Tue Apr 21, 2009 12:16 am
Location: Bridgewater, VA
pretty fish.
Bradley

"Spend it while you can, money's contraband, you can't take it with you when you go" ~ Jimmy Buffett
---
Wild fish are always special!
expelled by el Compressor
Emerson
---
Great catch. Nice to see a wild fish.
20" is not 20 lbs.
---
what is a wild trout
I am not being snooty or a wise ass
I am interested in what we think on this forum constitutes a wild trout
oh by the way- a very beautiful fish
Woody
It is certain that an atom of goodness on the path of faith is never lost.
Rumi
---
Hey Woody, my interpretation is that a wild trout is one that is streamborn, i.e. not stocked. If a fish is born in the wild to stocker parents, I still consider that a wild fish.

To me a native is a fish that was in the system before man started moving fish around. As far as I know the brookies are the only native trout we have in the mid-atlantic region (to include the SNP). That's my understanding anyway.

On a side note, I remember reading in the park fishing regs a couple of years ago that anglers were supposed to kill any brown trout that were caught inside the park. It may have been only in certain streams, but I thought it was anywhere inside the park. The brownies apparently are (or were) outcompeting the brookies in the lower reaches of the park streams and the fisheries folks were worried about them moving up the systems into the higher elevations of the park.

I don't know if it's still that way though, I haven't checked the regs lately.

I'm glad I didn't catch any. I don't know if I could have killed one of those brownies just to kill it. I kinda remember the regs saying you had to kill it and that you weren't supposed to keep it (or something like that). All I remember is thinking that we'd have to kill the thing and throw it in the woods. That would have been weird.

David
---
Woody:
DavidM is correct by what I understand in terms of definition of wild trout. The browns in this stream have been reproducing for at least 30 years and as far as I know there has not been any stocking in quite some time. They seem to get along just fine with the brookies. We caught quite a few of them too.
I wasn't aware that there were any regulations that would require a person to kill a pefectly, healthy, beautiful wild trout by throwing in on the bank to die. I threw it back, i sure hope i didn't do anything wrong or illegal
9ft4wt
---
I'm with you 9ft4wt. When I read that (I'm pretty sure it was 2006 that I read that in the booklet) I was totally surprised. Like I said, I'm glad I didn't catch any b/c I'm not sure I would have killed them. The more I think about it the more I'm thinking it was only only specific streams/rivers. I can't for the life of me remember which ones though. I'll see if I kept the booklet. I might have it stashed in the mountain of stuff that is covering what used to be a usable tying desk.

I'll see if I can scare up the regs for this year online too to see if there's anything in there anymore about it.

David
---
DavidM:

The streams are the Rose, Hughes and Broke Back Run. I am not sure if it applies to all streams in the park, but those are the three from which they have been electroshocking the browns and I know the regs say browns from there must be harvested if they are of legal size or thrown on the bank to die.

Personally, I don't agree with the rules, fot a lot of reasons I wont go into right now. But the Virginia Department of Game and Inland fisheries and Trout Unlimited have been working with the Park to try to not kill but remove the browns. They put them in an fish tank and transport them to other streams. last spring about 200 browns from the Rose were moved to Mossy Creek. I disagree with the removal but applaud the effort and cooperation.

The browns I caught actually came from another stream that flows out of the park but is not covered by the kill regs. If I caught a brown on one of those other three streams, I am pretty sure I would have to practice civil disobedience.

9ft4wt
---
Return to Freshwater Fly Fishing
Who is online
Users browsing this forum: No registered users and 1 guest