I just got invited to go striper fishing May 4 for a few days at Roanoke Rapids NC. The season closes this coming weekend and the catch and release season begins.....as I understand. Just wondering if anyone has any first hand knowledge. I have never been and only briefly heard about fishing there.

We have a place to stay and I believe, a person to take us in the river. Does anyone have flies, lines info? Are the fish still there at that time? Any info will be appreciated!

Is the river rocky? Can you fish from shore or is it boat fishing only?
expelled by el Compressor
Emerson
---
Fished last Roanoke rapids last monday... Lots of 20 inch stripers and shad mixed.... Take 8wts. 250, 350 gr. sinking lines, and a ton of half and halfs, chart/wht, all wht, red wht, etc. Found all our fish in pockets and eddys, and current seams. Rivers full of snags, expect to donate some flys.. We were told that 90% of the fish are below the takeout still....... We also caught alligator gar, catfish, and a few largemouth. hope this helps....
---
Emmerson:

Done that trip 5 times, but I haven't been down in a few years, but it can be ugly fishing at times -- a fish on every cast almost at times. Then they disappear. Mostly schoolie size. Clousers, half and halfs, decieivers -- pretty much standard stuff.

Sinking lines are the ticket most of the time. If the males are balled up around a big female, you can usually get them on an intermediate.

I typically have been in early May. And have always caught fish.

We have always gone downstream from the landing. Unless there is a fair amount of water coming down, it can be tricky to get a boat up over the fall line.

Have fun.

9ft4wt
---
>>> Fishing above the Falls is a diffrent matter. Leave that to the locals. You can mess up quick and float your hat. Losing a boat is a serios matter up there. Plenty of fish from the Big Rock to Jackson Lndg.
---
Thanks guys for all of the info!!!

Thanks flyinby for the super details!!!!
expelled by el Compressor
Emerson
---
>>> You can also fish a floater w/Lg.Poppers or Crease Flys. If they are willing these are exciting...
---
At last
I am off for a week just to fish! Hope to head to Weldon on Monday or Tuesday and fish for the Stripers/Shad for two days. Have been catching Juvy stripers on the seaplane ramp at work on my lunch break. Love those little fellows.
Once you kill a cow, you got to make a burger.
---
>>> Cape Lookout FF had a fishn excursion today on the Roanoke. No reports as of yet...
---
Here is my Striper Staple that I am taking to Weldon. Just put new 250 on the 6wt and have 350 on the 8wt. Hope to get some catch and release striper action.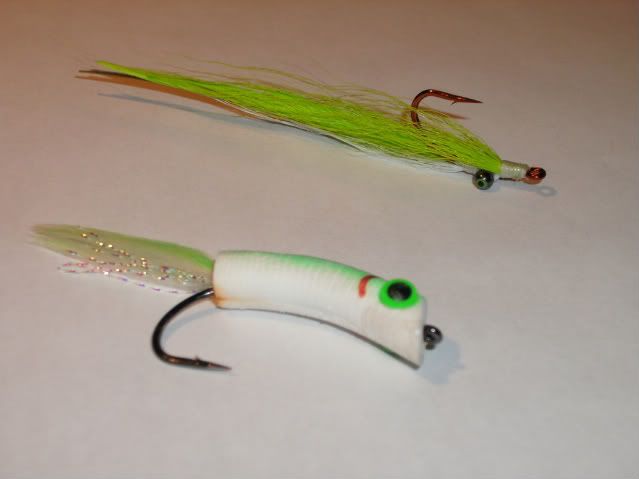 Once you kill a cow, you got to make a burger.
---
Anyone that wants to join in with us there are 3 of us fishing the Roanoke tuesday and wednesday. 2 yakers and 1 boater. Hope to get some stripers and shad. Will be camping in weldon not to far from the ramp.
Once you kill a cow, you got to make a burger.
---
Return to Freshwater Fly Fishing
Who is online
Users browsing this forum: No registered users and 2 guests