Mixed Bag New Year's Orlando Fishing Report
We fished the Mosquito Lagoon one day, and the St. Johns River two days, and the Banana River Lagoon one day. Of course results were a mixed bag. And Sunday is New Year's Day! So we have a mixed bag New Year's Orlando fishing report!
Best wishes to all for a happy, healthy, and prosperous 2017!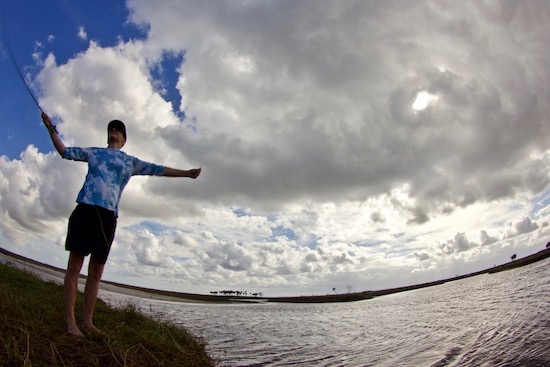 Monday around noon I went launched the Bang-O-Craft on the St. Johns. Son Alex and John Napolitano were with me. It was warm and sunny and every airboat in Florida seemed to be there. Fish were popping fry minnows all over the river.
At the mouth of the Econ there was a paddling fly caster who steadily caught 12 inch bass on a small white streamer. Since there were three of us we refrained from joining him and went farther up the Econ. We found breaking fish up there but they weren't taking our flies very well. John and I each got a crappie.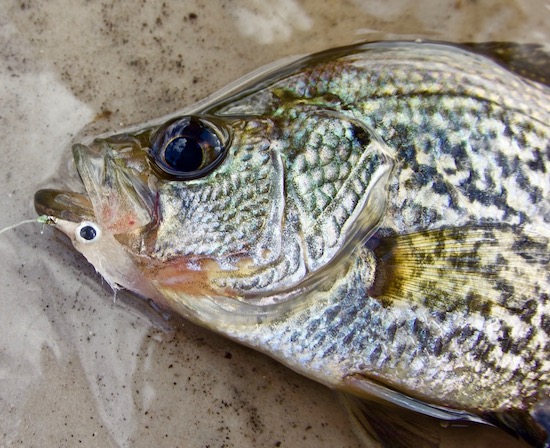 We went back down the river and the other angler had left. We took his spot. Fish were breaking steadily. Using a fry fly I did some damage! Bluegills, bass, and my first shad of this season all succumbed to the fry fly's charms.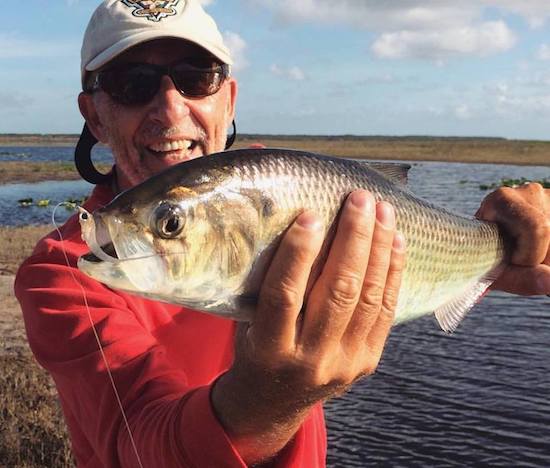 When the action slowed we went down the river, where we found another spot with breaking fish. Again, the fry fly did some damage, taking some reasonably large bass. The other fly that worked extremely well was a #10 white Gurgler, a silly little fly. The fish liked it, though!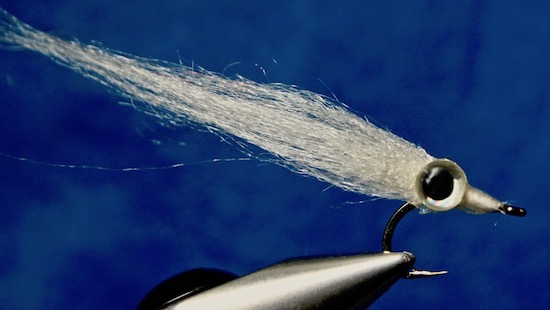 Fry Fly
hook- Daiichi X510, #10
thread- Danville flat waxed nylon, white
wing- craft fur, light grey, light tan, or cream
eye- Witchcraft 3-D, 5 mm
Start the thread. Cut off a clump of craft fur and pick out most of the fluff. Tie it on to the hook, smooth the head, and whip finish.
Glue the eyes on with Zap a Dap a Goo or Duco cement. After the glue dries, coat the head with Softex.
Since the fly is small, you'll catch some very small fish with it. Some surprisingly large fish will take it, too. The hook is on 3x thick wire, so it will hold a good fish without issues.
You can see how to tie a gurgler here
http://www.spottedtail.com/how-to-tie-a-gurgler/
. Since the #10 is so small I use hackle fibers for the tail and the tying thread for the body- simple!
On Tuesday Greg Scible and Caleb Cousins joined me for some Mosquito Lagoon light tackle action. Unfortunately the action part was fairly slow- a couple trout and small reds. We started fishing the spots that had been so good to me last week- not so good this day. We tried Deadly Combo-ing for trout. We got a few fish but again, pretty slow.
We checked out a couple spots where I had found fish last week. Caleb got a slot red on a DOA CAL Shad. We Deadly Comboed again and got a few short trout. We tried soaking cut mullet in two spots where this worked wonderfully last week. Not even a catfish this day. I cranked the motor to move, and it pooped out. It would not start again.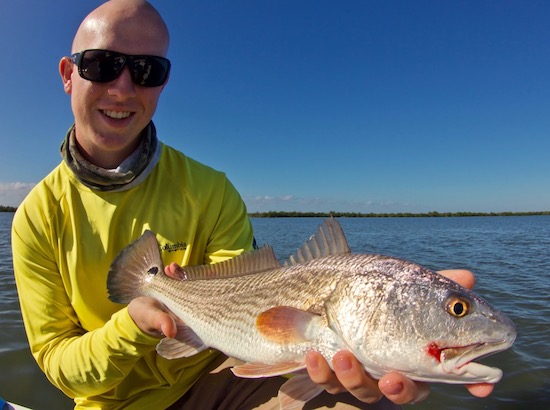 I had them start fishing while I thought about the problem. They started hitting trout immediately, again on the Deadly Combo. Most were short, but a few were slot fish.
In the meantime I checked the in-line fuel filter. It looked fine, but there must have been some debris in it. When I reassembled it, the boat ran fine. We kept fishing though, and got a bunch more trout.
We ended the day with six reds and about 30 trout, not bad for a slow day.
Wednesday at 8 AM I met Paul MacInnis at the Space Center Badging Station. He got me a visitor's badge and off we went to the Banana River Lagoon. We had perfect paddling weather- no wind, no clouds. We paddled a long way before we found any fish, though.
The fish we found was a school of large black drum. They were way more interested in each other than in our flies, as we did not get bit.
We got a few small trout, though.
We found some smaller drum. I got one about seven pounds or so on a crab pattern.
I later got a small, beautiful nine-spot redfish on the same fly. Paul got a fish here and there too.
Some kind of rooted vegetation is beginning to grow on the otherwise barren sand bottom there, and the water is quite clear in most places. Perhaps it was just an off day, but it was pretty slow fishing-wise.
Thursday afternoon I went back to the St. Johns, by myself, by kayak. A short distance from the boat ramp there were breaking fish. My first two casts, on the little gurgler, each garnered strikes from 12 inch largemouths. Before leaving that spot three strikes were missed and two more bass released.
The spots that had been so hot on Monday were not on Thursday. Apparently the fish are following the moving bait.
No shad or crappie were caught, but bluegills and a couple more bass rounded out the catch. All fish were released to make more fish for the future.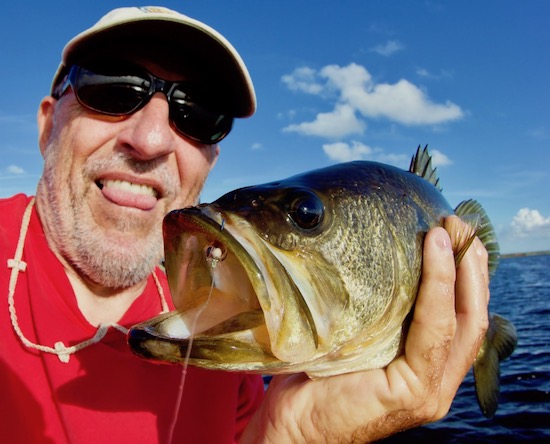 Thursday night a cold front came through, putting the kabosh on any thoughts of fishing Friday.
So that is the Mixed Bag New Years Orlando Fishing Report! Have a great holiday!!
Life is great and I love my work!
Life is short- Go Fishing!
John Kumiski
www.spottedtail.com
http://www.spottedtail.com/blog
www.johnkumiski.com
www.rentafishingbuddy.com
https://www.smashwords.com/profile/view/jkumiski
All content in this blog, including writing and photos, copyright John Kumiski 2016. All rights are reserved.
---
Return to Saltwater Near and Far
Who is online
Users browsing this forum: No registered users and 2 guests