Indian River Lagoon and Mosquito Lagoon Fishing Report
To see the complete fishing report with photos and links visit
www.spottedtail.com/blog
Upcoming Events-
The Indian River Lagoon Paddle Adventure kicks off on November 30. Paddle a section or the length of the lagoon with us!
My Mitzi Skiff 17 is for sale. For information, visit this link:
http://www.spottedtail.com/mitzi-skiff-sale/
On Sunday Tammy and I went to the Indian River Lagoon for some rare Sunday fishing for me, and part of her ongoing month-long birthday celebration. Hope it was a good birth month, Tammy! Anyway, we visited to power plant first to get a few ladyfish. In what proved to be a bad omen we did not get a bite there.
We crossed the lagoon and went on a search mission. We did not have to search very hard. There were lots of fish there- black drum, redfish, seatrout. In one of the most serious cases of fish lockjaw I have ever seen we did not get a single bite.
Tammy had been up most of the previous night fishing at Sebastian Inlet and was low on gas. The lack of cooperation from those lagoon fish pushed her right over the edge.
We were off the water about 130 PM.
Monday morning found me launching the Mitzi (it's for sale!) at River Breeze for my first look-around up there since getting back from Alaska. I did lots of fruitless searching. In the last spot I looked the fruit showed in the form of some tailing reds, and trout in potholes.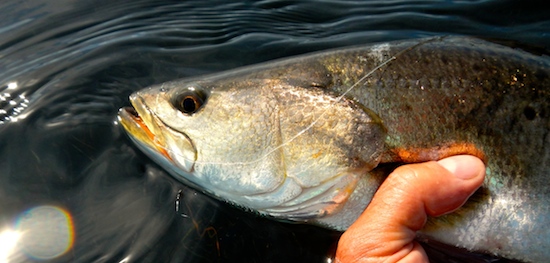 After getting a couple on a DOA Shad Tail I switched to fly and got the nice top-of-slot redfish. Some more investigation is warranted.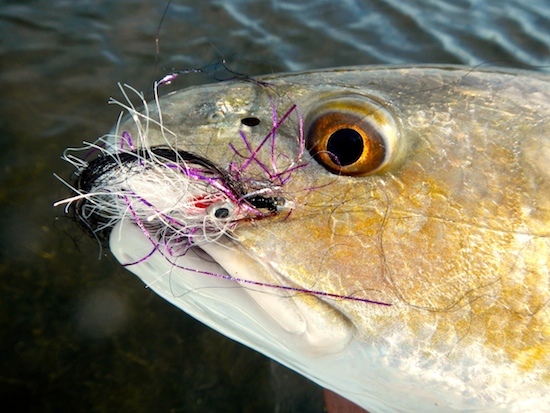 Wednesday my new sunglasses came! Smith Optics has awesome customer service.
I also put the almost-final-finishing-touches on the sailing rig for the Old Town.
Wednesday night Susan and I went to the University for Light Up UCF, a good thing to bring the kids to. There are a few rides, an ice skating rink, a saucer run, a showing of How the Grinch Stole Christmas, a light show, and faux snow. I couldn't help but notice a few attractive co-eds, too.
Thursday morning the weather forecast did not look promising. But it looked better than Friday's. So I tossed the kayak on the roof of the van and drove to River Breeze.
The water was too high. It was windy. It was cloudy. There were hardly any cars in the parking lot. I launched the boat and went a-paddling.
No fish were visible. I blindly fished a hole which has produced while fishing blindly in the past. It did not produce.
I went to a second hole and fished it blindly. It did not produce either.
While standing on the bank eating a tangerine two redfish swam by, giving me the fin as they passed. I could hear them laughing at me.
I fished a third hole. A bold, eight-inch redfish got between me and the skunk.
The day was awesome. Didn't see another hominid the entire time I was out.
While paddling back I came up with a new mathematical equation which rivals e=mc2 (can't make the superscript, sorry) in terms of simplicity and elegance. OK, I'm exaggerating. But here it is:

For the non-mathematically inclined-
Clouds plus wind plus rising water plus falling water temperature equals no fish.
Argonaut Publishing Company is having a big Christmas Sale on all of its fishing books by one Capt. John Kumiski. Visit this link to do some holiday shopping!
That is this week's exciting version of the Indian River Lagoon and Mosquito Lagoon Fishing Report.
Life is great and I love my work!
Life is short. Go Fishing!
John Kumiski
http://www.spottedtail.com
All content in this blog, including writing and photos, copyright John Kumiski 2013. All rights are reserved.
---
The math equation is purrrrfect!
It seems to work for many types of fish!
expelled by el Compressor
Emerson
---
i have to wonder if non-fishermen will be astounded by its profundity...
jk
---
Return to Saltwater Near and Far
Who is online
Users browsing this forum: No registered users and 2 guests