Indian River Lagoon Fishing Report, Port Canaveral Fishing Report
For a complete fishing report with photos and links visit
www.spottedtail.com/blog
Upcoming Events-
Mosquito Lagoon Show and Tell Fishing Seminar, October 26

Mosquito Lagoon On-the-Water Show and Tell Seminar, October 27

First Coast Fly Fishers meeting, November 4
Indian River Lagoon Paddle Adventure starts December 1. Paddle the length of the lagoon!
Four days were spent on the water this week, even had a charter.
Sunday Tom Yoshida and his wife Babette joined me for some fly fishing on the Indian River Lagoon. I would have preferred the beach but the northeast wind and three to four foot seas made me think better of that idea. First we looked on the south side of NASA causeway. The water was clean(!) but other than mullet we saw no fish.
We checked the new power plant. There were baby tarpon rolling there. We tried all kinds of flies for an hour without anything to show but a couple of small ladyfish, and then gave up. We got to watch a lot of dolphins working, though.
I ran north of the railroad trestle. It was a complete waste of time. The water was nasty looking and we did not see anything.
Our last stop was north of the NASA causeway. There were a few redfish there, although it was hard to see them until they were a rod length away. Those ten foot casts are hard to make with a fly rod. There were quite a few alligators there. Using my pushpole I poked the tail of one that was lying on the bottom. He surprised me by whipping around and trying to bite the pole, which I barely got out of the way. Oh, my Stiffy!
We did not get a good shot and ended the day with only the small ladies to show.
Monday Scott Radloff and I went to Port Canaveral. There were loads of mullet there. We anchored at the north jetty and got snook, redfish, crevalle, bluefish, and snapper. Once the bite slowed we went looking up towards the Cape. There were breaking fish all over Canaveral Bight. All of them turned out to be big ladyfish. Even at that, I love breaking fish. On a Chug Bug they were a blast.
We were hoping to find tarpon but did not, although I got a 60 pound blacktip shark on a light spin rod.
All in all it was a pretty entertaining day.
Wednesday I went back to the port by myself. The seas were at the limits of the Mitzi's ability to cope, so I did not clear the jetties. As it turned out I just caught some mullet for future reference, then went home and took care of other business.
Friday Dr. George Yarko and I went back to the port. We anchored at the north jetty, where we got a snook, a seatrout, and a crevalle, and missed a couple of strikes. Then the bite died.
There was a shrimp boat off of Cocoa Beach. We ran down to investigate. Sadly, there was absolutely nothing in the way of fish behind it, to my surprise and dismay. Since we were already out a couple miles, and since we had been seeing Sargassum, we went looking for weeds, for breaking fish, for bait, for whatever. We found nothing until we came back close to the beach north of Cape Canaveral.
There were acres of breaking fish.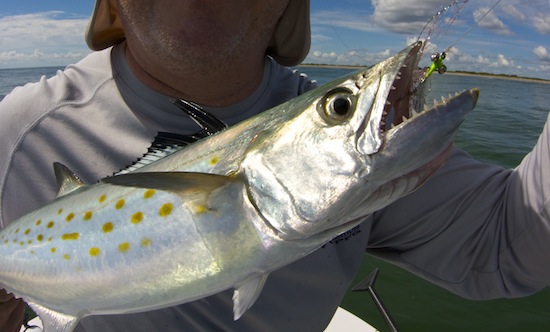 The Spanish macks were nice ones, and there were jacks and bluefish too. I broke out the fly rod while George threw jigs. We went through lots of baits, but it was pretty much a fish every cast. Both bluefish and Spanish mackerel are entirely capable of severing 40 pound fluorocarbon leader. They did just that repeatedly. Lure manufacturers must love those species!
It got too easy, so we headed down the beach, back towards the port. We found more breaking fish, this time with ladyfish thrown into the mix. We lost a bunch more lures and flies.
It got too easy, so we headed down the beach. I spotted some redfish and George got one over 30 inches on a live mullet, the best fish of the day.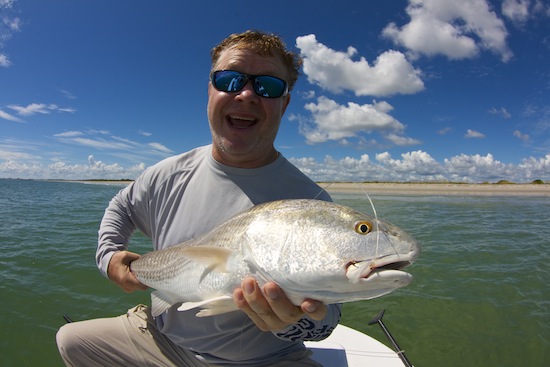 I spotted some snook and we doubled up. They were short and we released them, but it was awesome being able to sight fish them.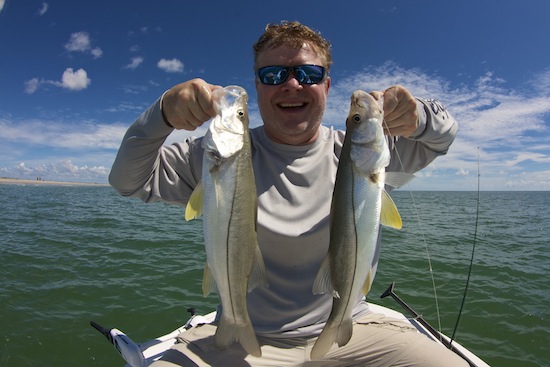 We got jacks and bluefish until we decided to hang it up at about 2:30. It had been an awesome day.
That is this week's exciting version of the Indian River Lagoon Fishing Report and Port Canaveral Fishing Report.
Life is great and I love my work!
Life is short. Go Fishing!
John Kumiski
http://www.spottedtail.com
All content in this blog, including writing and photos, copyright John Kumiski 2013. All rights are reserved.
---
I think you get the variety prize for this week!
---
Return to Saltwater Near and Far
Who is online
Users browsing this forum: No registered users and 1 guest