Mosquito Lagoon Redfish Fishing Report
Oh yeah, it's GREAT to be home! Fishing has been outstanding, too!
Upcoming Events-
Mosquito Lagoon Show and Tell Fishing Seminar, October 26

Mosquito Lagoon On-the-Water Show and Tell Seminar, October 27

Indian River Paddle Adventure starts December 1
Before the local report, an Alaska fishing story, my favorite from the season just past. No names have been changed to protect anyone.
Goodnews River Lodge had a guest named Ray. Nice enough guy. Apparently the IGFA just opened a new class of world records based solely on length. Ray wanted to get a record dolly varden, and needed a fish of only 24 inches. For this quest he brought a 12-weight. No, I don't get it either, but I took him dolly fishing one day and he threw it all day. Must have a huge arm. Anyway...
He used said 12-weight for silver salmon one day. In spite of the tackle a silver somehow got into his backing. He had had the line rigged at a Bass Pro Shop. No, I don't get it either. Of course the backing and fly line separated. He lost the line, in spite of spending quite a bit of time looking for it. At Goodnews 12-weight fly lines are not something we keep in stock, so the 12-weight rod was out of business for a while.
Later that same day another guest who we will call Gary caught Ray's line. The fish who had done the damage was still attached to it. Gary caught that too. But when he got back to camp he did not tell Ray about it. No, mum was the word.
Every Tuesday night the Lodge has a little awards ceremony. The guys who get the biggest fish don't get awards. The guys who get the most fish don't get awards. The guys who fall into the river, they get awards. The guy who breaks the most fishing rods, he gets an award. You get an award if you manage to catch a dead salmon, or a rock. So you know when Tuesday night came rolling around, Ray got an award, and he finally got his fly line back. To say he was surprised would be a large understatement. There was a lot of laughter. A very funny, very entertaining episode it was.
But I digress from the business of writing about the fishing here.
Tuesday I put the Mitzi in the St. Johns for a water test. Steering worked, bilge pump worked, anchor light worked, all systems go. I wanted to visit Mosquito Lagoon on Wednesday but my son needed my car to get to school- his car was in the garage. So I didn't get out until Thursday.
I did not get a bite on my first cast. After that it was pretty much wide open.
I found slot reds finning at the surface and popping baits as the opportunity arose. I tossed a 5.5 inch DOA CAL twice and a fish whacked the bait on the second cast. Another whacked it on the fourth cast. I lost track of my casts pretty quickly but I had a third fish before five minutes of fishing had elapsed.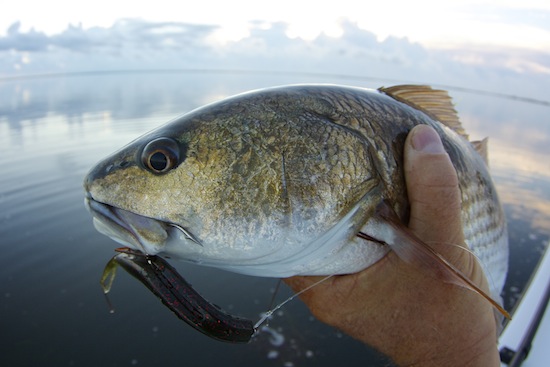 I strung up that fangled fly-pole thang, tied on a grizzly seaducer. The fly hit the water and a fish nailed it, first cast.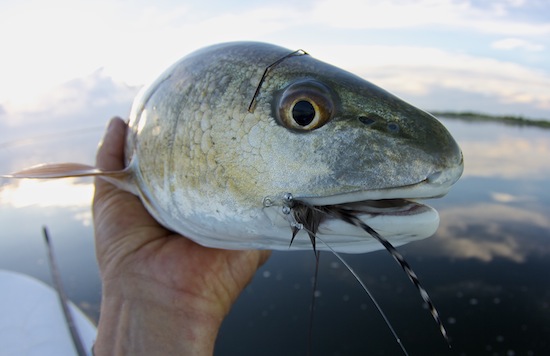 Damn, it's good to be home.
The sun cleared an offshore cloud and the surface activity at that spot stopped immediately. Within 300 yards I had found a 200 fish school of 15 to 20 pound reds. My first cast spooked them. I just backed off and let them calm down. A fatty whacked the fly on the next cast. I watched it all, very cool. After releasing the fatty I hooked and lost another.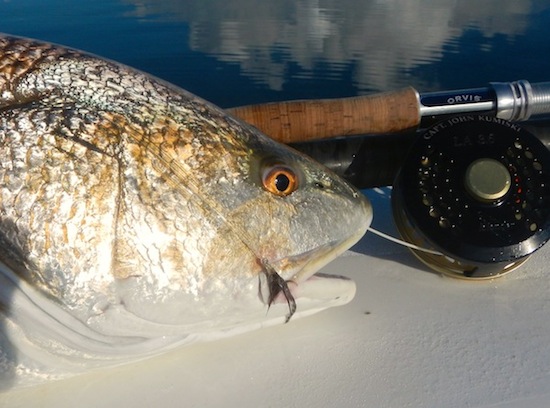 At this point I decided I had come to look around and had only worked one half-mile-long stretch of water. It was time to look around.
I found a school of big redfish. I threw a four inch DOA CAL jerkbait at them and Mamoo ate it. I was calm enough to photograph myself. I wanted to try with a fly but I lost them while tussling with Mamoo. The wind had come up enough that I couldn't find them again.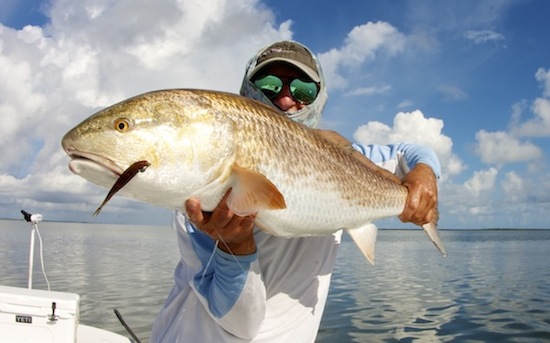 It was raining all around me. Having had quite the morning already I decided to bail. The boat was loaded before noon.
On Friday Dr. George Yarko and Dr. Dave Nickerson joined me, again on Mosquito Lagoon. I was expecting a repeat of the previous day's success.
How foolish of me.
The fish were not behaving the same, nor were they in the same places. We burned some fuel searching, and finally located a school of redfish.
None of them bit. They quickly vacated the place once they realized we were there.
Dave managed to catch the only tailer we saw, a beautiful 27 inch redfish, using a 5.5 inch DOA CAL jerkbait. George got a handsome 22 inch seatrout using a DOA Airhead. We got some other minor stuff not worth reporting.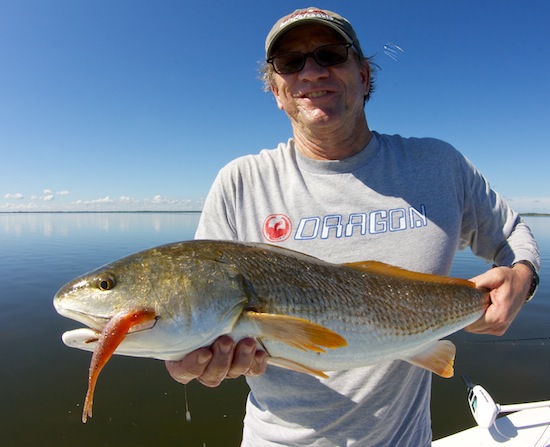 It was a lot of work for only two fish. On the other hand we have all had worse days. The weather had been lovely and everyone except perhaps me was quite satisfied.
That is this week's exciting version of the Mosquito Lagoon Redfish Fishing Report.
Bonus Report! Port Canaveral, Saturday 9/14
George Yarko and I launched the Mitzi at about 8 AM, ran south along the beach to Patrick AFB. The menhaden were solid from the pier south, as many as I have ever seen. We did not see any other kind of fish, which was very surprising and very disappointing.
At Patrick we took a left and headed out about three miles, then headed north. We saw one small pod of tunny briefly. There was lots of sargassum out there but no fish that we found. We continued north all the way to Cape Canaveral. We saw a small pod of breaking fish, Spanish mackerel. I got one on a Sting Silver. George got a bluefish on a DOA CAL jig. We did not see any other fish around the Cape or the shoal.
On the way back south down the beach we saw several schools of mullet, some quite large. No other fish. Near the port entrance there was a school of menhaden. I cast our last one to them and hooked a shark of maybe 30 pounds.
The weather was spectacular and it was great being out but fishing was disappointing. We met a guy at the boat ramp who had gotten one fish, a fat tripletail. At least someone got one!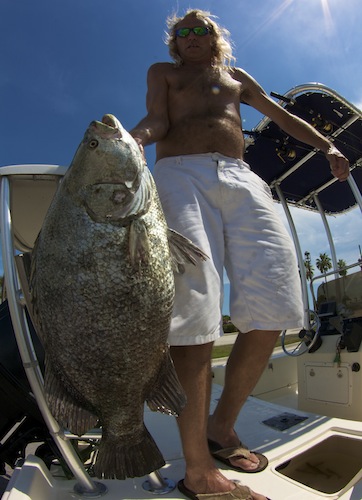 Life is great and I love my work!
Life is short. Go Fishing!
John Kumiski
http://www.spottedtail.com
All content in this blog, including writing and photos, copyright John Kumiski 2013. All rights are reserved.
---
Return to Saltwater Near and Far
Who is online
Users browsing this forum: No registered users and 1 guest