Orlando Saltwater Tarpon Fishing Report
Sorry, no fly fishing though....
Orlando Saltwater Tarpon Fishing Report
Here is this week's spectacular Orlando saltwater fishing report-
Scott Radloff and I had an outstanding day tarpon fishing early in the week.
Monday we launched the Mitzi at Port Canaveral. We had no information about the fishing- no one had been out for almost two weeks due to the strong east winds. So we were on our own.
We found plenty of pogies by the Cocoa Beach pier. A couple tosses of the net and we were baited up.
We slow-trolled around the bait pods in a couple different places. Nothing. Apparently there weren't any fish around the bait.
We headed out to sea.
Shortly we came across little tunny busting minnows. There is a very effective lure for this situation, the Sting Silver, manufactured by Haw River Tackle in North Carolina. I tied one on and was soon listening to the sweet sound of a reel in distress. Tunny are such awesome light tackle fish!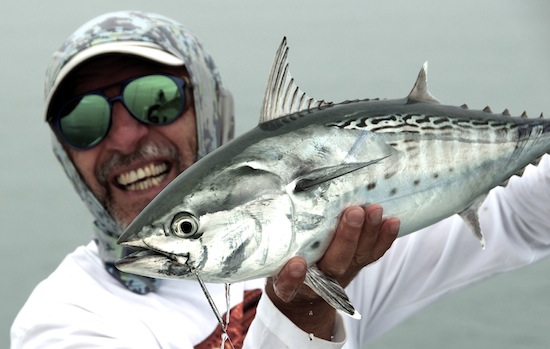 Tunny swim fast and soon they stopped busting in our immediate area. Then Scott saw a tarpon roll.
Soon we were surrounded by rolling fish. Scott put a pogie on (Daiichi circle wide hook, 5/0) and cast it out. Five seconds later a behemoth tarpon came flying out of the water.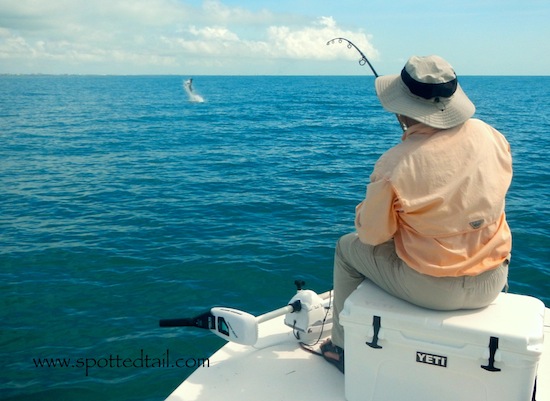 It commenced to kicking Scott's ass.
While it was doing that I had a strike from a more manageable fish of about 60 pounds. Tarpon double. You gotta love that.
I leadered and released my fish while Scott continued to struggle with Moby Dick. Finally after about an hour the fish broke off. Sadness and relief at the same time.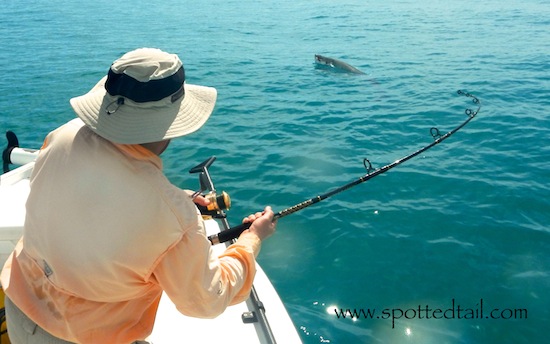 Then I hooked one almost as big. I tried to kick its ass before it could kick mine and succeeded in breaking it off after five jumps. Sadness and relief at the same time.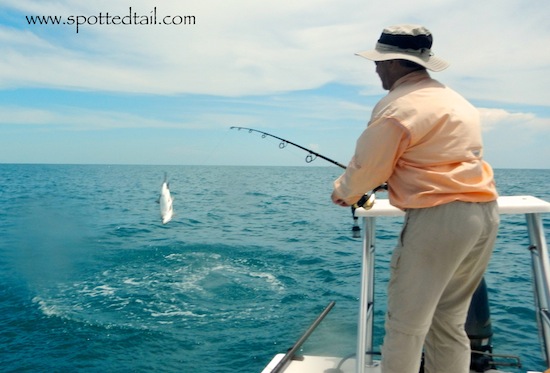 The rest of the morning continued in the same vein. Most of the subsequent fish we hooked were significantly smaller. I got one that was only about 40 pounds. Scott video-taped that one. See the video here:
http://www.youtube.com/watch?v=Yj0X4COs ... e=youtu.be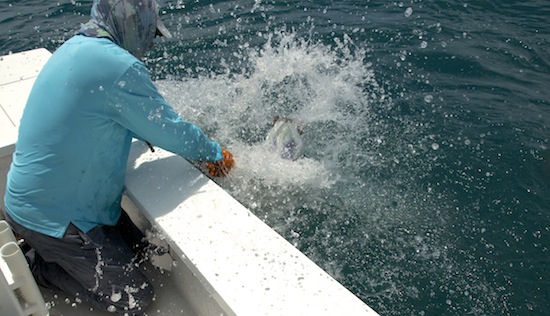 The wind came up out of the east and the fishing died. No rollers, no bites, no nothing. We were pretty beaten up, having jumped around twenty fish and leadered a half-dozen. Just a spectacular, awesome day.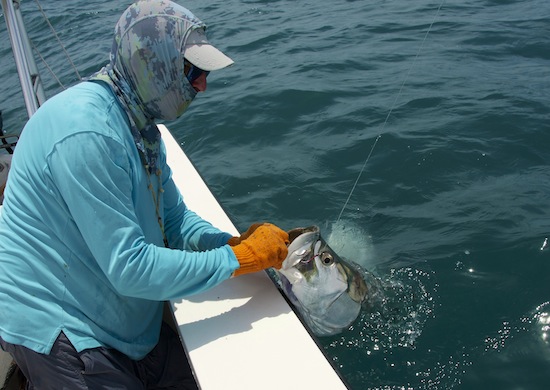 We were back at it Tuesday. Elvis had left the building. We saw maybe a dozen tarpon roll all morning. I jumped one of about 100 pounds. It tossed the hook after the second jump. Finally we didn't see any rollers at all.
We got a half dozen tunny on Sting Silvers and pogies, and a half dozen blacktip sharks, too. Not spectacular like the previous day, but entertaining nonetheless.
That is this week's exciting version of the Orlando Saltwater Fishing Report.
I will not be posting another report until mid-July.
Life is great and I love my work!
Life is short. Go Fishing!
John Kumiski
http://www.spottedtail.com
All content in this blog, including writing and photos, copyright John Kumiski 2013. All rights are reserved.
---
John are you out there. Have not heard any reports from the Mosquito Lagoon. As I have A home there I like to hear what is going on. Ed
---
Nice report! Thanks for keeping the tarpon in the water!
---
Return to Saltwater Near and Far
Who is online
Users browsing this forum: No registered users and 1 guest