Tarpon Fishing Report 526
This week's Tarpon Fishing Report:
First, a Mosquito Lagoon update.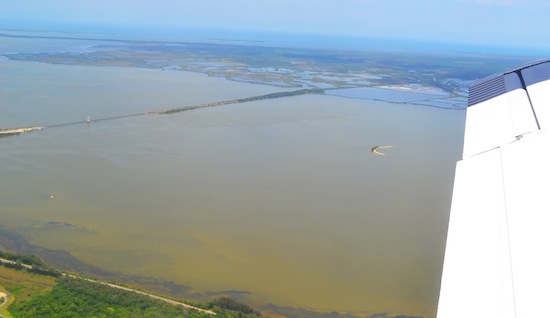 I had a reader send me this aerial photograph, showing the Indian River Lagoon north of the Max Brewer Causeway in Titusville. From the air the algae in the water is obvious. On Friday I spoke with Drew Cavanaugh, who told me that the algae in Mosquito Lagoon had bloomed and visibility into the water at Tiger Shoal was about one inch. Bad news for sight fishers and lovers of seagrass, this. I will have to investigate myself this coming week.
On to the tarpon fishing-
Tuesday I got up at 430, hopped in the chariot, and towed the Mitzi to Pineland Marina, launching the boat at about 10 AM. Went to spot number one, had a few bad shots while under way with the trolling motor. Still, there were fish there, a good thing. Ran out and set up camp on the beach, anchoring and waiting. Several fish came through. Had some shots and a few looks but no eaters. Still, was guardedly optimistic for the next day.
Wednesday Clint Scott, an expatriate fly fisherman living in Rio de Janeiro, joined me for a day's fly fishing for tarpon. We went to spot number one. Clint was using a black and purple streamer. He had several shots and had an eat, putting an eighty pound fish into the air. The fish shook the fly on the first jump, however. We beat the spot to death and then ran out to the beach and anchored. Good numbers of fish came through. Clint had three hard looks but no bites. We bagged it around 6 PM only having gotten the one bite.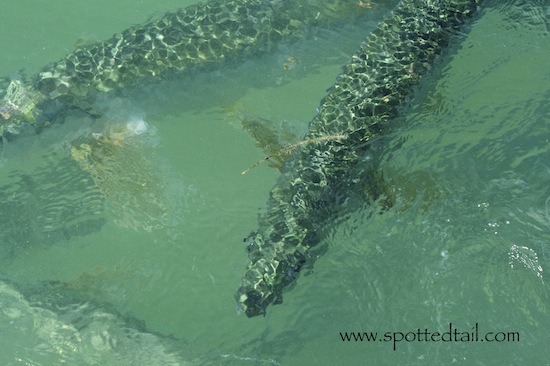 Thursday found Clint in the Mitzi again. We had a solid 15 mph wind from the west at the start. I poled into it about a half mile, sweating blood the whole time, and we did not see a fish. Went to another spot and had a couple shots but no interest from the tarpon. We went out to the beach.
It was sloppy out there, so much so the bilge pump was running constantly. Very few fish came through. We waited for hours and gradually all the other boats left except my friend Rick and us.
Finally a string of fish came right at us. Clint made a good cast. A tarpon came up and tracked the fly about ten feet, then turned off. I opined a fly change was in order, and tied on a black and purple streamer. I instructed Clint to make a practice cast, which he did. The line immediately came tight and sixty pounds of angry tarpon came flying out of the water. Dumb luck? Absolutely, but I'll take it. I managed to get a jump shot while operating the boat.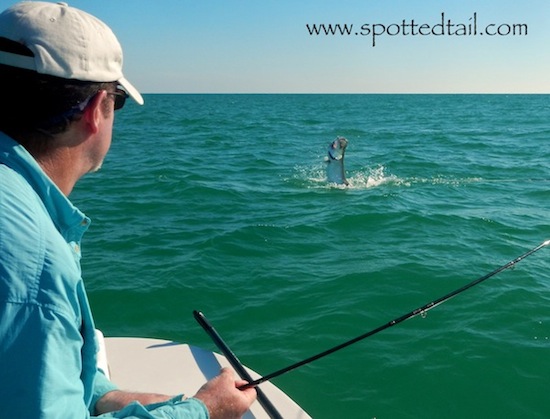 Thirty thrilling minutes later I removed the hook and released the fish. Since it was 6:30 PM we decided we had had enough and went back to Pineland.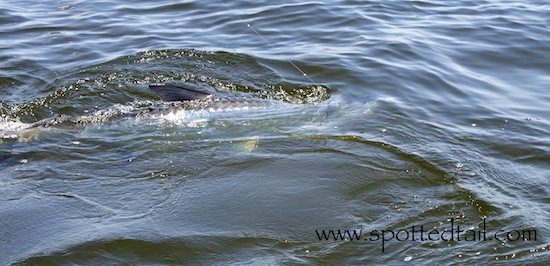 On Friday Dr. George Yarko joined me. We went to the first spot, where we had several shots but no interest from the fish. We went to another spot where a hard west wind came up. We saw only two tarpon there and blew right past them. We took a beating running out to the beach against the wind, and anchored up once we got out there. Waves washed over the front of the boat constantly. Decent numbers of fish came by. We had several shots and had three good, hard looks from the fish but no eats. We packed it in about 5:30.
On Saturday Dr. Yarko and I tried again. Now the wind was east at 15. We went to the first spot, where I netted some pinfish. We anchored up and tossed one out. Thirty minutes later the float disappeared and a large fish started screaming line off the reel. It kept going and before I could get off the anchor and pursue the line went slack. We had about 15 pounds of vegetation on the line, which was broken in the leader. We never did see the fish.
We went out to the beach. It was a crazy, beautiful weather, everyone-who-owns-a-boat-is-out Memorial Day weekend scene out there. We joined the fleet anchored up in the fishing spot and sat. And sat. And sat. We did not see a fish, did not get a shot, and finally at 5:00 left and went to Captiva Pass. There were a few crabs floating through and lots of boats. We only saw one fish and did not get a bite in two floats through. We then decided to bag it and returned to Pineland not having gotten a bite in two days.
That is this week's exciting version of the Tarpon Fishing Report.
Life is great and I love my work!
Life is short. Go Fishing!
John Kumiski
http://www.spottedtail.com
All content in this blog, including writing and photos, copyright John Kumiski 2013. All rights are reserved.
---
Return to Saltwater Near and Far
Who is online
Users browsing this forum: No registered users and 1 guest