Mosquito Lagoon Fishing Report
The seatrout were on fire this week.
I did not touch a fly rod this week, though.
Ordinarily my feeling is that lure color is way more important to the fisherman than to the fish. Sometimes though, the fish just completely shatter than notion.
On Sunday Rick Schooler and his friend Dave joined me for a full day's fishing on Mosquito Lagoon. Rick was throwing a 5.5 inch DOA CAL jerkbait, new penny color. Dave was tossing the DOA CAL airhead, red with gold glitter. Fishing was not particularly hot, but after Rick got his third fish Dave wanted what Rick had. Oh my God, I only have two left!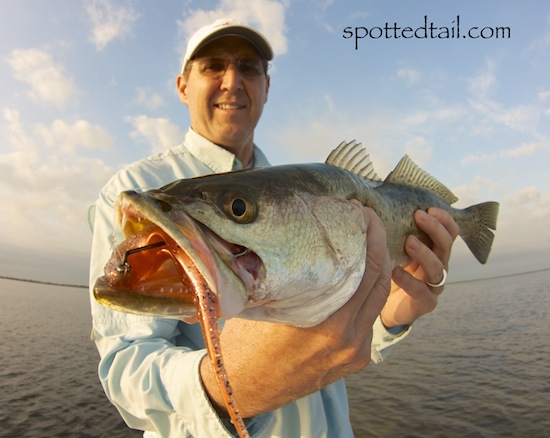 In the meantime, as circumstance allowed, I tossed a Deadly Combo. Over the course of the day I made dozens of casts with it and did not once get a bite.
Dave got his new penny jerkbait and proceeded to catch right up with Rick, both numbers and size-wise. The bite was principally from 20 inch-plus trout, two of which swallowed the baits.
Rick had a puffer mangulate his bait. In an effort to stretch the new penny supply out I had him try a jerkbait in the greenback color. While he used it without success Dave got three beautiful fish. Rick understandably wanted a new penny bait. I switched him out and he immediately nailed a fish.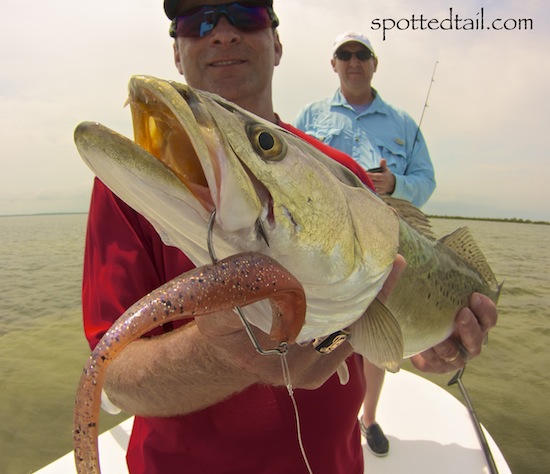 The new penny color was the only thing we caught a fish on. We ended up with two reds and ten or so trout, all but two of which were over 20 inches in length. Pretty fair day for a weekend.
Took Monday off. Had to see the optometrist. Love those dilation drops into the eyeball.
Tuesday my eyes had recovered sufficiently to go scouting on the Mosquito Lagoon. Launched at Beacon 42, headed south.
The trout were awesome, got eight between 20 and 25 inches. And although the new penny jerkbait worked extremely well, I also got fish on a DOA Shrimp and a DOA CAL shad tail. Four redfish were silly enough to bite too, even watched one do a 180 to take the new penny jerkbait. And I missed a half dozen strikes. Weather was great, fishing was great, and I was by myself, in which there is an element of great!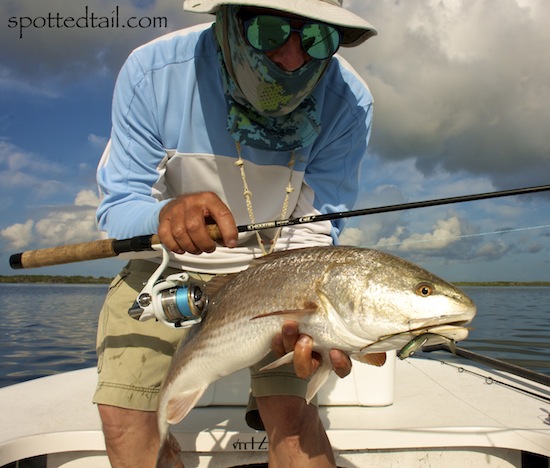 Thursday I went scouting again in Mosquito Lagoon. Launched the boat at Beacon 42 and went north.
I don't think the trout were quite as thick as they were down south. On the other hand, different day, different result. I still got several nice ones, and saw many more than I got. A pair of dolphins started shadowing me, hoping to eat my released fish. I pulled up the MinnKota and took my business elsewhere.
There were a lot more redfish up north than down south. I got one on the first cast to the first school that I saw, using a DOA CAL shad tail, Arkansas shiner color. I didn't see fish everywhere I looked, but I saw enough to keep anybody busy. It helped that the weather was close to perfect!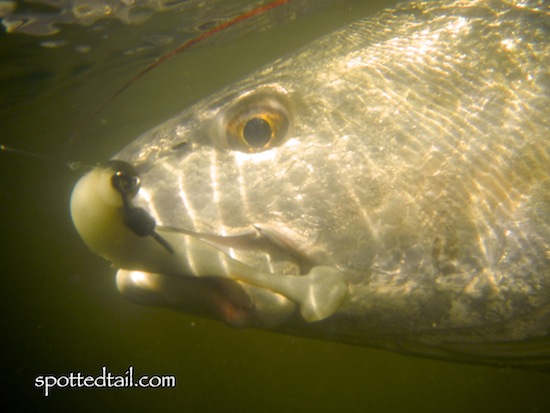 On Friday Dave Arcury and his 16 year old son Nick joined me for a half day on Mosquito Lagoon. I felt extremely prepared, until I saw all the whitecaps. The wind was coming hard out of the south.
I went to the redfish spot first. I could really only go one way, and the fish moved before we were close enough to cast- four times in a row. At that point it was obvious we wouldn't get a fish there so we went after trout.
They weren't terribly cooperative although Nick got two on the new penny jerkbait. The larger one was above the slot, a handsome fish.
We decided to soak a couple baits to see if we could get a red. Less than five minutes later one of the rods went off and Nick battled a 26 inch red to the boat. All of today's fish were photographed (by Dad, I forgot the cameras) and released. Before we knew it time was up.
It was a veritable manatee orgy at the boat ramp. I shot a few- photos, that is!
And that is this week's exciting version of the Mosquito Fishing Report.
Life is great and I love my work!
Life is short. Go Fishing!
John Kumiski
http://www.spottedtail.com
All content in this blog, including writing and photos, copyright John Kumiski 2013. All rights are reserved.
---
Return to Saltwater Near and Far
Who is online
Users browsing this forum: No registered users and 6 guests