Mosquito Lagoon Fishing Report
We fished four days and took three fly fishing trips on the Mosquito Lagoon this week.
Sunday Joe Wishcamper, fly fisher from Maine, joined me. We fished six hours, saw a mixed bag of large trout and slot reds. Changed flies a few times. Got a few decent shots. Did not get a bite.
Monday Russell and Brenda Otis, fly casters from Virginia, chased fish around for six hours. In terms of number of fish seen it was by far the best day this week. We saw hundreds of redfish. In terms of weather it was also the best day. Got a few decent shots. But they did not get a bite.
Wednesday Jim Coraci, fly caster from New Jersey, joined me for five hours on the Mosquito Lagoon. Wind and clouds made it hard to see until the fish pushed up wakes while fleeing from us. Saw numerous schools of reds. Got a few decent shots. Did not get a bite.
On Thursday Dr. George Yarko and his brother John joined me. When we started the wind was blowing at about 15 knots. It proceeded to increase in strength until we left. Clouds added to the ambiance.
We missed our first two strikes, probably because of surprise at getting them. But then John caught a slot red that nailed his DOA CAL jerkbait.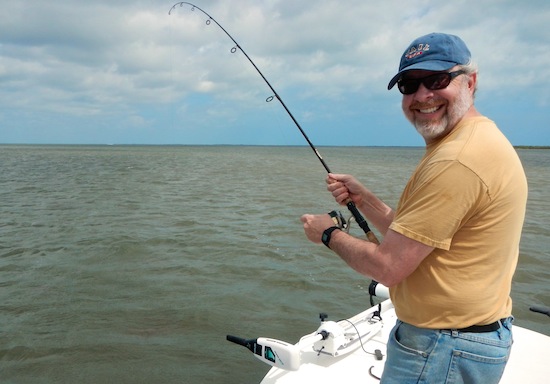 By now it was blowing well over 20 knots. The lagoon was covered in whitecaps and the water was getting very muddy. I put out the power Danforth anchor and proceeded to soak a couple of mullet chunks. Four more reds and two hardhead catfish joined our little fish fest. All the reds were in the slot except one fatty at 29 inches.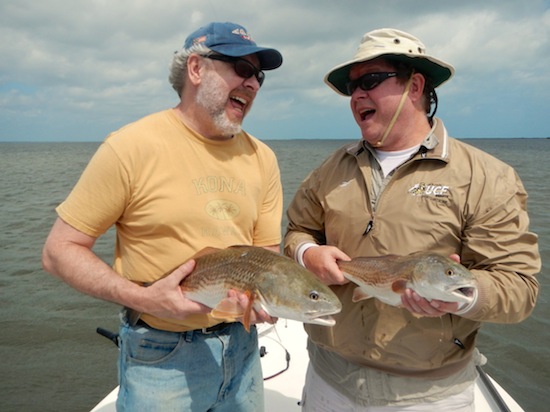 We decided discretion was the better part of valor just after noon. We only took one wave over the bow on the ride back to Haulover Canal.
And that is this week's exciting version of the Mosquito Fishing Report.
Life is great and I love my work!
Life is short. Go Fishing!
John Kumiski
http://www.spottedtail.com
All content in this blog, including writing and photos, copyright John Kumiski 2013. All rights are reserved.
---
Return to Saltwater Near and Far
Who is online
Users browsing this forum: No registered users and 2 guests