Orlando Area Fishing Report

Upcoming Events-
-Titusville Surf Fishing Workshop, Wednesday, March 6, 6-8 pm. There are several other surf workshops coming up along the Space Coast in the next two months. For more information please email Rodney Smith
irlcoast@gmail.com
-Mosquito Lagoon Show and Tell Fishing Seminar, MINWR, March 2; On-the-Water Show and Tell Seminar, March 3
The Super Bowl
was last Sunday. My favorite columnist, Gregg Easterbrook, published his last column of this football season on Tuesday. He finished with these sentiments:
"As usual, I recommend you employ the offseason to engage in spiritual growth. Take long walks. Perform volunteer work. Exercise more and eat less. Drink less soda, more tea: green tea is soothing, oolong tea may lower blood pressure. Attend worship services of any faith, bearing in mind Pascal's wager. Study philosophy and secular ethics: We spend too much time on economics and science, not enough on ethics. Read a book a month. Seriously, you can't get through a book a month? And real books: history, literary novels. Appreciate the grandeur of nature. Meditate, express gratitude, serve others. Tell the people around you that you love them. Who knows if you will get another chance?"
Amen to all that. I would add, "Go fishing. Enjoy the outdoors." I will look forward to TMQ returning in September.
MINWR Launch Complex Update-
rather than clutter up this report with all the correspondence flying back and forth, please visit this link for the latest updates. At the link I have a letter you can copy.
The Turtle
- Reader Mark Smith won the book with this very complete response:
"The diagnostic for the loggerhead is the presence of two claws on the front flipper. The front flipper closest to your chest appears to have just one claw. The flipper closest to the photog MAY have a second distal to the obvious one. My source book says the second claw is sometimes difficult to see.
"Since we can't count the plates on the dorsal surface, the only other diagnostic feature is the relative size of the head. This requires just an educated guess at this point since we don't have a known loggerhead/green to compare against.
"If you look at distribution and range, greens and loggerheads overlap in Fla, although the Lhead is much more common
"I guessed Lhead because its more abundant/common and also it's head just appears to be bulky, and not as sleek as a green."
Thank you Mark, nice work. I hope you enjoy the book!
Fishing!
My friend Ricky called. He got me all chummed up about tarpon fishing. Shoot, it's only February. I just tied a half-dozen flies. Seeing pictures like this didn't help, either...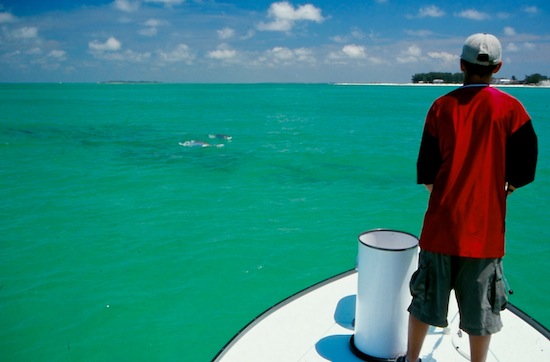 Father Rick Voor and his friend Scott were on my mind on Monday and Tuesday. I went back to the same areas where they had gotten skunked last week. I kicked fish butt this week.
Monday my three-weight broke when I got a little heavy-handed on a redfish. It was the fifth or sixth fish of the day, all solid five and six pound fish. The fly was an old favorite, the grizzly seaducer, size 4.
Tuesday, not having learned my lesson, the other three-weight accompanied me. It accounted for at least 20 fish before I decided I was being a greedy pig and quit fishing. A couple of nice trout took a minnow pattern and I photographed myself with one with very moderate success.
Some home projects occupied me Wednesday and Thursday. Friday the weather was gorgeous if a bit windy. I launched the Mitzi by the Jolly Gator and went upriver looking for shad. Oh yes, we found them with some help from Mark Benson. They were rolling and boiling all over the river. In addition to a couple dozen shad, a couple bluegills and a suicidal largemouth fell for my flies. It was an awesome afternoon- the best shad fishing I have seen in several years.
Saturday found me and 30 or so other folks picking up trash around the Haulover Canal. A lot of litter was picked up. If you were fortunate enough to visit that place at noon you could have seen it letter free, a rare thing indeed. Kudos to all the volunteers.
In the afternoon the Mitzi again plied the waters of the St. Johns River. This time Tammy Wilson joined me. We went to the same spot as yesterday. Although not quite as good it was still good.
Tammy tossed a fly while I threw a spin rod. The way the wind was blowing it was safer that way. Creme makes these two lures that shad and other denizens of the river like bluegills and crappie are wild about. One is the Spoiler Shad, 1.5 inches long. The other is the Litl Fishie, same size. See them here
http://www.cremelure.com/store/store_su ... egory_ID=2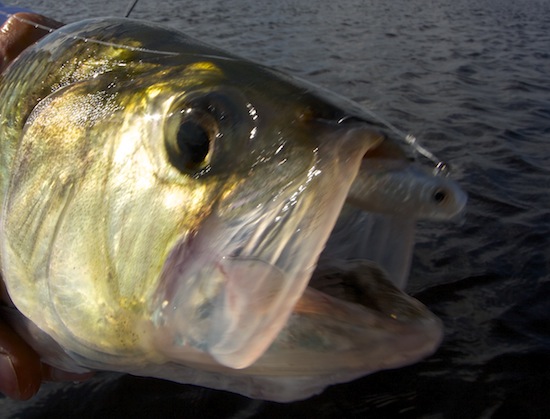 And that is this week's exciting version of the Orlando Area Saltwater Fishing Report.
Life is great and I love my work!
Life is short. Go Fishing!
John Kumiski
http://www.spottedtail.com
All content in this blog, including writing and photos, copyright John Kumiski 2013. All rights are reserved.
---
Return to Saltwater Near and Far
Who is online
Users browsing this forum: No registered users and 3 guests