Orlando Area Saltwater Fishing Report
Upcoming Events-
-Space Coast Birding and Wildlife Festival, January 23-28, 2013
- Merritt Island National Wildlife Refuge Clean-Up, February 9, 2013. Contact Nancy Corona, 321-861-0668 or
nancy_corona@fws.gov
-Satellite Beach Surf Fishing Workshop January 16. There are several other surf workshops coming up along the Space Coast in the next two months. For more information please email Rodney Smith
irlcoast@gmail.com
-Mosquito Lagoon Show and Tell Fishing Seminar, MINWR, March 2; On-the-Water Show and Tell Seminar, March 3
Monday- Tom Van Horn invited me to accompany him on a fishing trip to the St. Johns River. We launched at CS Lee Park. It was good. We used the 1.5 inch Creme Spoiler Shad to good success, catching shad, crappie, bluegills, and redbellies. I also used the bamboo to get a bunch of fish. Don't get to use that rod very often. We saw Ron Presley out there, they were doing well too. We had a good time.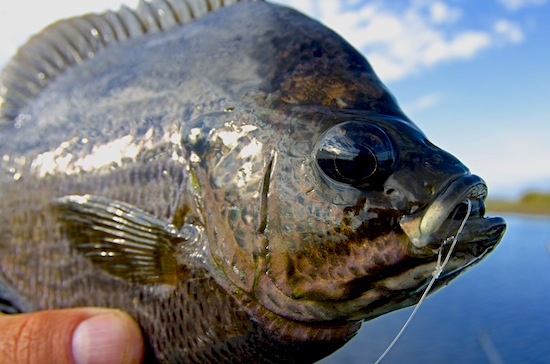 On Tuesday Walt and Walt (Capt. Walt Czekaj, runs a fishing boat on Long Island,
http://captreefishfinder.com/
) joined me for some Mosquito Lagoon fishing. It was steady if unspectacular all day, with plenty of shots at big seatrout and tailing redfish. The fish weren't very bitey, but we got several of each, both on fly (small white Clouser Minnow) and on the DOA Shrimp. It was a good day.
Wednesday Capt. Chris Myers invited me for a day's Mosquito Lagoon fishing. There were lots of tailing redfish. It was hard getting a bite. I had a crab pattern and a shrimp pattern in them several times without success. We did get some on a bunny strip fly that Chris tied. We were off the water at about 1 PM
Thursday Tom Van Horn joined me for some Indian RIver Lagoon scouting. We looked in Dummit Cove to Black Point, to the west side of the IRL between the Praxaire plant and Little Flounder Creek, and on the east side between the golf ball and Haulover Canal. Save yourself some time and trouble and go fish elsewhere. We hardly saw anything.
We went through the canal and looked in a couple spots in the Mosquito Lagoon. At the last one we found a few reds, a bunch of nice trout, and one flounder that Tom fooled with a jerkbait. Even though you don't often see the words "flounder" and "catch and release" in the same sentence, he let the fish go.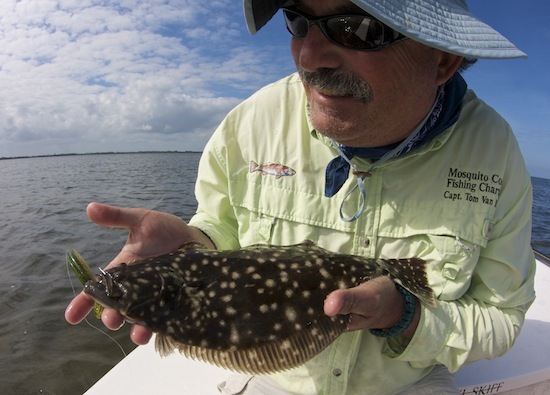 Friday fly caster Jim Coraci from the Garden State joined me for a Mosquito Lagoon half day. The weather, as it has been most of the week, was spectacular. The tailing reds were out in force, and, like Wednesday, were very hard to catch. Jim did get a slot fish on a crab pattern. He followed it up with a seatrout on a minnow pattern.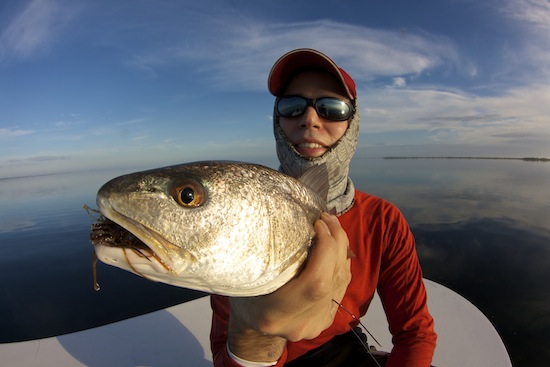 Son Alex met me at CS Lee Park for a couple hours of shad fishing. They were chasing minows. In spite of trying all kinds of flies I could not get one. Alex got two on a pink microjig. I did get a nice striper/sunshine bass on a black wooly worm, the first I've ever gotten in Florida. We also got assorted sunfish and a small largemouth bass. There were a lot of people out enjoying the day.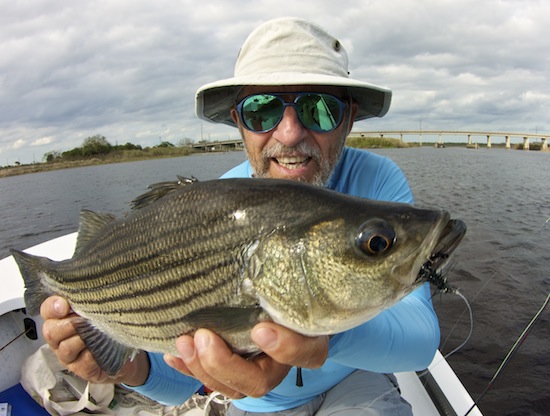 Saturday fly fisher Chad Wiersma, from Seattle, joined me for some Mosquito Lagoon fly fishing. It was slick calm. The redfish were tailing. They had their radar on. In spite of lengthening the leader, using smaller, lighter flies, going even more slowly than I usually do, etc., we did not get a bite from a redfish. He had two seatrout eat and missed both strikes. Ouch. A sad thing, a fishless day.
And that is this week's exciting version of the Orlando Area Saltwater Fishing Report.
Life is great and I love my work!
Life is short. Go Fishing!
John Kumiski
http://www.spottedtail.com
All content in this blog, including writing and photos, copyright John Kumiski 2013. All rights are reserved.
---
Return to Saltwater Near and Far
Who is online
Users browsing this forum: No registered users and 1 guest