Orlando Area Saltwater Fishing Report
Upcoming Events-
-Space Coast Birding and Wildlife Festival, January 23-28, 2013
- Merritt Island National Wildlife Refuge Clean-Up, February 9, 2013. Contact Nancy Corona, 321-861-0668 or
nancy_corona@fws.gov
-Mosquito Lagoon Show and Tell Fishing Seminar, MINWR, March 2; On-the-Water Show and Tell Seminar, March 3
New Website Department-
http://johnkumiski.com-photography
and more literary writings, even a few poems! Please check it out and tell me what you think. Thanks!
The coffee this morning is especially delicious.
On Tuesday Dr. Ken Unger, from Calgary, did some Mosquito Lagoon fly fishing with me from the Mitzi. Although the sky was overcast for much of the day, until about 1 PM the lagoon was slick calm. There were a lot of fish around, just lying around. I would have expected tailing everywhere but no, they wouldn't do that. We ran over a lot of fish.
Ken did get a few reds on a crab pattern. We tried for trout. They had moved from some spots and were protected by copious amounts of floating grass in others. He got a few good strikes but none were converted.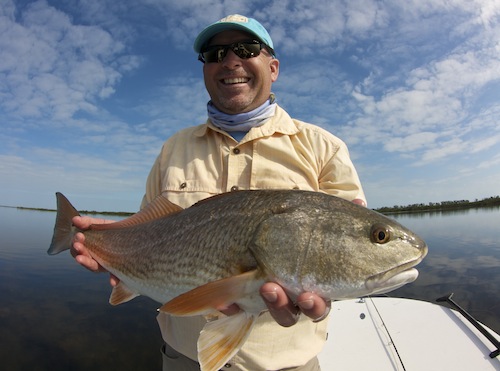 It was a little frustrating but we had a good time and we did get some fish. Here's what Ken said: "Wanted to thank you for the good day yesterday. Enjoyed the company. Learned a little which is something I always want to do in a new area. Caught some fish. A good start to the new year. I will be back. Thanks again."
On Thursday morning I braved the fog, launching the kayak at KARS at about 730. I dared not get more than 150 feet from shore. There was no wind. I didn't have a compass, or for you modern types, a GPS either. The sun hid behind the clouds. If I couldn't see shore I would be utterly lost. It was very cool but very spooky at the same time.
Paddling steadily north I ran over the occasional trout. The object was to find big reds or black drum. Stopping at one place I cast a streamer for trout for a while but did not get bit. The quest continued.
The fog burned off around noon.
I went most of the way to the NASA causeway.
I did not find what I was looking for.
On the way back I saw a tail, as it turns out the only one found. I stalked the fish. It was a big black drum. It ignored my fly and swam off. I would not see another.
The final score was one shot, no bites, four fish seen- pretty disappointing. More searching needs to be done. It's the right time of year.
Speaking of the right time of year, shad are being caught in the St. Johns River. I do not have any details. I wanted to go Friday but that 60 degrees and raining put me off. Too much like Alaska.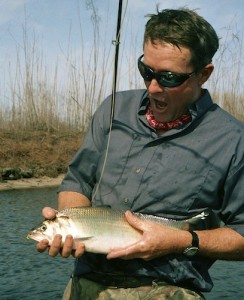 Yesterday son Maxx and I went running along the Florida Trail, most of the way to Orlando Wetlands Park. Beautiful day, nice woods. Hamstring is kind of tight today, though.
And that is this week's exciting version of the Orlando Area Saltwater Fishing Report.
Life is great and I love my work!
Life is short. Go Fishing!
John Kumiski
http://www.spottedtail.com
All content in this blog, including writing and photos, copyright John Kumiski 2013. All rights are reserved.
---
---
Return to Saltwater Near and Far
Who is online
Users browsing this forum: No registered users and 2 guests