Mosquito Lagoon Fishing Report 11/25/12
The water level in the lagoons is still unseasonably high. That, combined with the low angle of sun in the wintering sky, is making sight fishing in the lagoons difficult.
That having been said, on Tuesday Cheryl, the official sister of the Spotted Tail, joined me for a redfish-for-Thanksgiving-dinner mission. The wind was screaming out of the north. The first spot we went I was tossing a Johnson Minnow. I didn't get a bite but I did poke a redfish with my fishing rod. He bolted, as could be expected.
We anchored up on the lee side of an island and put two mullet chunk lines out. In 20 minutes I had gotten three reds to 32 inches, with one being a fine 25 inch dinner fish. Mission accomplished, we put the boat on the trailer.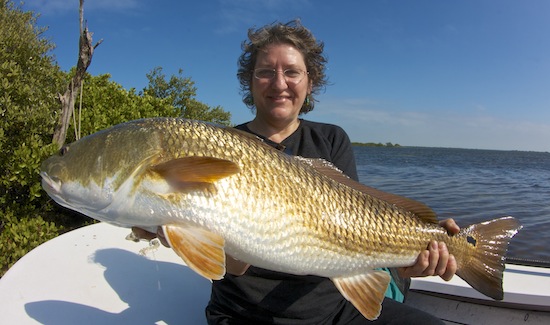 The fish, stuffed with a crabmeat and rice stuffing and grilled over an oak fire, was delicious.
On Wednesday fly fishers Andrew Peterson and his friend Terry joined me for a day's fly fishing. Since the wind was again screaming out of the north my guess was any fish we got would be by the grace of God. He didn't smile on us. In spite of working our butts off all day we got exactly one bite which was not converted. It was a beautiful day if you weren't trying to fly fish, but next to impossible for a fly caster.
Thursday was a lovely day and the Kumiskis had 30-odd guests for a wonderful celebration. I hope all of you had a blessed day.
Friday long-time client Todd Preuss Ph.D. came down from Atlanta for some fly fishing. The wind was out of the north but uncharacteristically was only blowing about 10-12 mph. Using a slider Todd got two nice reds in the slot and a fat little killifish, more commonly called a mud minnow here in Florida. Never saw one taken with a fly before.
Late in the afternoon we found a bunch of seatrout on a sheltered shoreline and Todd got two on a HotHead fly. All in all it was a real nice day.
Saturday Rob Ghini and Tammy Wilson joined me for another Mosquito Lagoon trip. The wind was still there, 10-12 out of the northwest. The slight direction change moved the fish.
We went to where the fish were on Thursday, first the redfish, then the seatrout. Neither were still there. So it was search mission time.
Rob got the first red on a Johnson Minnow while blind casting. Then I got one on a chartreuse DOA Shrimp. A while later Tammy got a trout on the DOA Shrimp.
While sight fishing across a large flat tammy spotted a small group of reds and Rob got the best fish of the day on a piece of mullet.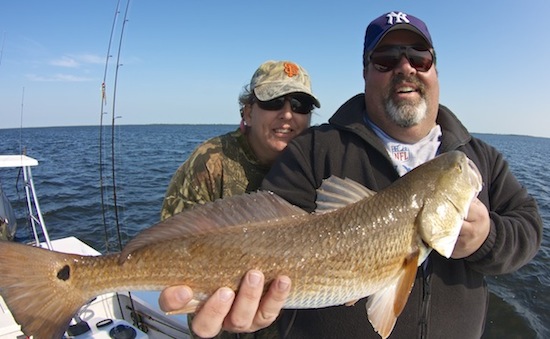 We got a few more trout on jigs and DOA Shrimp.
It was a beautiful day but the fish were scarce. We had to work hard but we did get a few, and enjoyed ourselves tremendously.
Thanks to all my fishermen this week- you were all awesome.
I sure hope the water level drops soon.
And that is this week's Mosquito Lagoon fishing report.
Life is great and I love my work!
Life is short. Go Fishing!
John Kumiski
http://www.spottedtail.com
All content in this blog, including writing and photos, copyright John Kumiski 2012. All rights are reserved.
---
Return to Saltwater Near and Far
Who is online
Users browsing this forum: No registered users and 1 guest