Mosquito Lagoon Fishing Report, 10.20.12
Fishing was a tailingfest this week.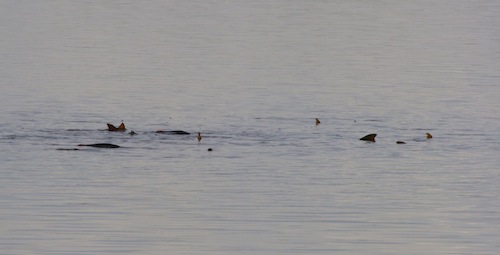 Sunday night Chris Myers emailed me, asking me if I wanted to fish with him on Monday. So Monday morning found me in Chris Myers' boat. We went down to the south end of the Mosquito Lagoon. There was nothing there.
Then he took me to where he'd been fishing as of late. There were redfish tailing everywhere. I was not particularly competent, but managed to get three fish on a small grizzly Seaducer.
I poled Chris for a while. He got three fish bang-bang-bang. Much more efficient than I he was.
The weather was incredible and I really enjoyed the day. Thank you, Chris.
On Wednesday Tammy Wilson and I launched kayaks at River Breeze. It was overcast but there was no wind. We got to the first fishing spot and there were redfish tailing everywhere. I even got pictures.
Between us we got about a dozen fish. Tammy was using a small green and yellow Clouser Minnow, I a black and green one. Two of the fish were trout that ate when we threw to tailing reds. What's up with that?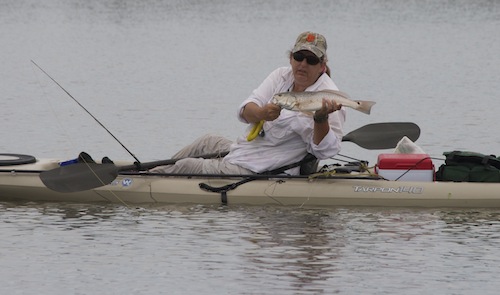 I got the last three fish I threw to, making me think that maybe I was getting my groove back.
We didn't see many fish at all in any of the other spots we checked.
Thursday brothers Eric and Ian Rauch joined me for some fly fishing on the Mosquito Lagoon. We launched at River Breeze and went right to where Tammy and I fished the day before.
It wasn't quite as good. But there certainly were tailing fish there, and they managed to get five between them. There were lost fish, missed strikes, and refusals, too.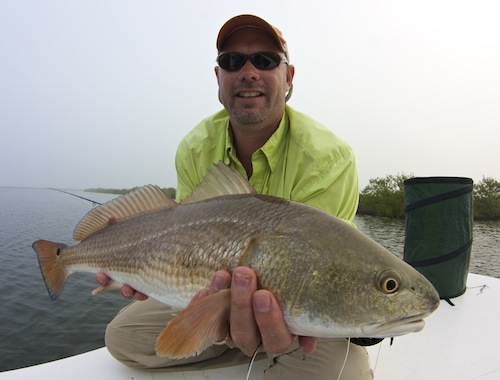 We checked several other spots. Some were barren, others held a few fish. But we did not see any more tailers once the first spot slowed down.
On Friday the wind was forecast to be 5 to 10 out of the west. Scott Radloff and I launched at Port Canaveral, hoping to find tarpon or other exciting fishies.
We ran south all the way to Patrick AFB. We saw absolutely nothing. At Patick I turned left and ran out three or four miles, hoping to find some flotsam, diving birds, whatever. We looked around an anchored tanker. We looked around the mackerel net boats, all the way north to the buoy off Cape Canaveral. We saw exactly one tiny tripletail, nothing else.
We headed in to the beach to look around the Canaveral Shoal. Near the beach I saw a tarpon roll. We anchored the boat and started fishing.
There was a load of fish there. Jack crevalle, ladyfish, and bluefish were mostly what we got, on finger mullet, jigs, and Gotchyas. I also got a croaker and a nice Spanish mackerel, which we ate for supper Friday night. We saw a couple more tarpon, but they were scarce and widely scattered- no bites there, sadly.
And that is this week's Mosquito Lagoon fishing report.
Life is great and I love my work!
Life is short. Go Fishing!
John Kumiski
http://www.spottedtail.com
All content in this blog, including writing and photos, copyright John Kumiski 2012. All rights are reserved.
---
Thanks. Great tailing pic!
---
Return to Saltwater Near and Far
Who is online
Users browsing this forum: No registered users and 3 guests