Ok people...let us all know when you are visiting....This way we can say Hello to each other!
I will arrive, Monday the 19th...fish 20, 21, 22, 23...go home Saturday, the 24th
expelled by el Compressor
Emerson
---
Arriving late the 12th. fishing the 13-17th
---
I will be down 11/5-8. None in October. There has been talk of shrimp and venison 11/6 if there is critical mass.
The world is your oyster-
So show up with a knife and know how to shuck.
---
arrrive oct 19th
fish oct 20 and 21 with SG
may stay longer if I have a boat yet
Back November 5-8 with cutter
Dave
the bus came by and I got on
that's when it all began
---
Down most of October and really most of the year except for brief stints in Guatemala, 4 days in May/June find me between Islamorada & Marathon and will spend some of Febuary chasing spanish and jack crevalle off Stuart!
Am looking forward to any gathering that provides shrimp and venison, will be available anytime except Oct. 16th which is the CCA Banquet here, please accecpt my invitation to come and help NC with her fisheries! Also there will be a Cape Lookout Fly Fishers meeting at Cox's Family Rest. over in Morehead City on Oct. 23rd, food is great home cooking & seafood (very reasonable) and there will be transport from Harkers if needed and fine times all around! Might even get the most up to date fishing reports at the CLFF meeting and if you can't make that check out
www.coastalcarolinafishingreports.com
and
www.ncwaterman.com
for reports and weather!
Feel free to email me at
chl3@ec.rr.com
as I do tend to get on the water a bit this time of year!
I'd travel more, but the views here plus the fishing year round (Feb. is a bear, but ain't it everywhere) keep me close to home!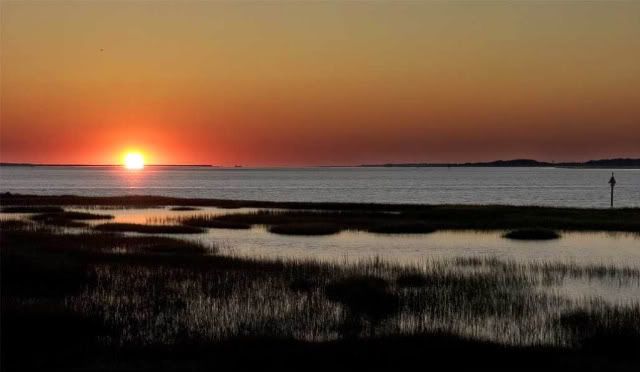 Sometimes fishing for 'cores can get pretty intense, not nearly as tough as it used to be, so if I get excited and cut you off, relax-----cause if I cut you off, by God, you're on the fish!!!
Good Fishing!!!
---
The photo looks like the view from the rear porch at the house VCFA rents in NOvember. I can't wait!

Junebug!
---
Got a vise for christmas last year. this will be my first Harkers trip that I get to tie my own ahead of time.
Open to advise
What I've gleaned so far is: small, sparse, and in colors that look like sardines, spearing, or silversides.
I have some ebay surf candies that look good - I can copy those - but would love other suggestions.
Dave
the bus came by and I got on
that's when it all began
---
Dave,
Last year when the albies were eating micro baits..Brian tied a totally pink deceiver...about 2.5" --3" long. The fish were eating 1" fish but they ate pinky!! Also try small...size #6 larger eyes with white craft fur..like 1 to 1.5" ...these fish are tough. The largest flies early seem to be a size 4...most of mine will be size 6. Small clousers...small dumbells, very sparse...a wider silver flash to simulate the silver on the side. Maybe a greenish color on top and white on bottom.

The spanish will be there when we get there. They love pink and white with a hint of silver flash. Size 4 or 6, small dumbbells.

For the kings...larger......like 5" 1/2 and 1/2 with black and white, pink and white or all white flies...larger dumbbells on these....maybe a size 1/0 or 2/0....

Have some tan and white ready as well.....same size
expelled by el Compressor
Emerson
---
That view is two houses down, 122 Pintail Lane, and my view is much better!
Yellow Pathfinder on the first lift you pass on the Refuge Harbor docks belongs to the bank and me, the Hewes Tailfisher under the house is mine but my daughter claims it too!
Boys, it could get great, 'cause it is d-am-n good now and it has been this way since the end of August!!!
Good Fishing!!!
---
Dave,
When I have done well on small bait it has been with Dave Skok's white bait mushie. Hot pink and white have been the best for me, but I also show up with chart/white and tan/white
---
Return to Morehead City - Atlantic Beach - Harkers - Cape Lookout
Who is online
Users browsing this forum: No registered users and 1 guest