We coulda fished today and some buddies went drum fishing. I thought about it, but severe thunderstorms of the house shaker variety kept most everybody from getting a good night's sleep, so I played with tackle and planned an assault for Sunday, Drum, albacore or specks, we'll make the call in the morning!

Good Fishing!!!
---
Posts: 1521
Joined: Tue Apr 14, 2009 2:05 pm
Location: Johnny Madert ---- St. Michaels, MD
Chuck, you will probably catch all 3 species Sunday.

Hope ya find chunky ones, no matter what species.
---
Hey Chuck,

What are the shoals looking like this season? I took a peek during a family outting about six weeks ago, and it was particularly nasty that day. I couldn't see the short-cut at the point, and it was a mess futher out.

Temps here in Raleigh are getting really nice - feels like fall. As soon I get past the MS 150 ride in New Bern (sept 11th), I'll be able to fish again. I hope the reports stay good.

Don
He who refuses to do arithmetic is doomed to talk nonsense... John McCarthy
---
The shoals are tough Don! The short cut is pretty much gone unless this last storm made a new one. Haven't crossed sonce the last blow, but I will as soon as light SW let's me get to the eastard. Plenty of small 'cores over here, but they turned picky yesterday, til then they would eat. Heading out in 30 minutes to see if those nice blues are still in the inlet before chasing those small albacore on 6/7wts!

Good Fishing!!!
---
Me and Quincy got out on the water this morning and found the fatties with Chuck and the gang. Quincy got to see her first fish ever - a nice little football.
Weather man got it wrong again. I was startin' to think Emerson must be on the Island!
"You may attend a party where strange customs prevail."
- Fortune Cookie
---
Bait everywhere, even in the HIFC harbor: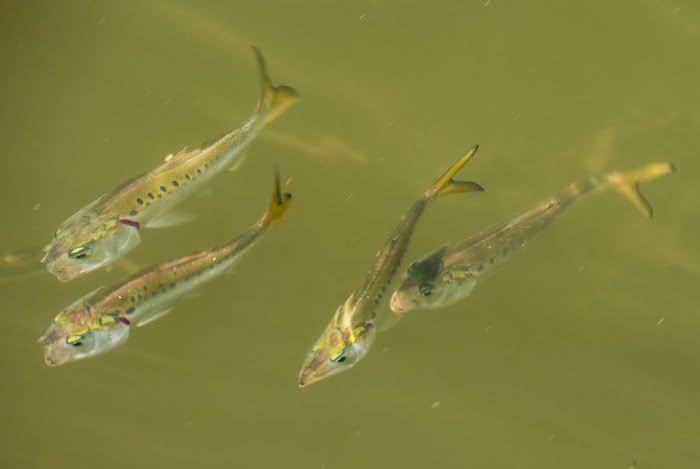 Breezy: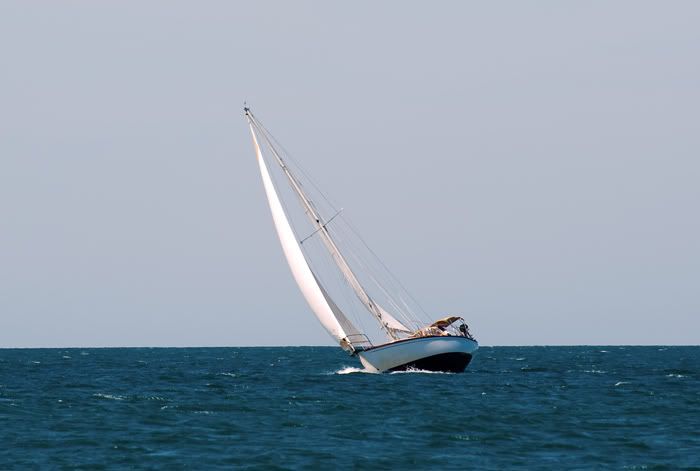 "You may attend a party where strange customs prevail."
- Fortune Cookie
---
As cool as it was yesterday, with the cloud cover, stiff NE and more chop on the water, today was as close to "on fire" as it gets with small albacore that just don't have the gumption to stay up! Don't know if I have ever had a 10 fish day on albies this early in September, but today I did and smacked 3 nice spanish to boot!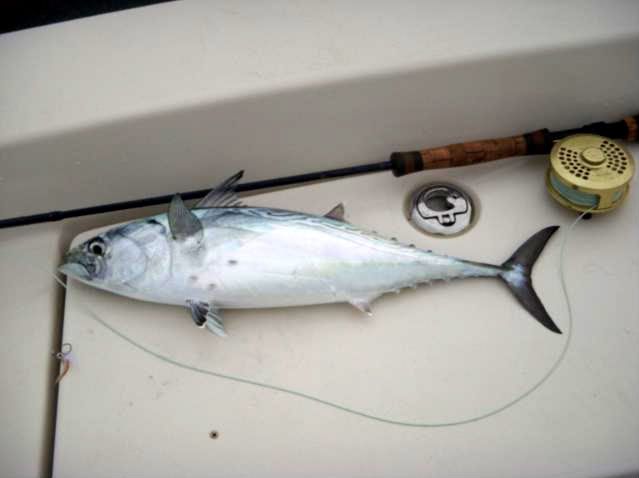 Casting was pain (that was not in the top 5 words I wanted to post), but if you got a tiny fly into the "meat" they would eat (sounds like OJ's trial)!!!
These flies are on 6/8 hooks and were trimmed to less than an inch or just over, and the bait is, to say the least, a "tid smaller"!
Sorry for the lack of pics, but it was a snotty day in a rocking boat and I was getting "bowed up"!
Monday looks like a blow day down here, NE picking up to 20/25kts, but this morning was an absolute blast.
Good Fishing!!!
---
Great job Chuck
Those flies look like they are tied with craft fur..Is that true? If so...easy to change sizes...smaller that is!
Looks like a blast!
expelled by el Compressor
Emerson
---
---
Yes the albies were cooperating today. John Martyn fished with me and we had steady action for about 4 hours. We caught ours on mini-mushies about an inch long. And snotty it was - glad that water was 75 and not 65!
"You may attend a party where strange customs prevail."
- Fortune Cookie
---
Return to Morehead City - Atlantic Beach - Harkers - Cape Lookout
Who is online
Users browsing this forum: No registered users and 5 guests