Hubert Parrott replaced Brian for the Friday morning tour of one of the Downeast creeks and while we got up there as early as possible and just knew we had it made, little did we know that the fish had vanished. Could have been they headed back out to follow the bait, could've been warm water temps put em on the prowl and they left some really good holes for some really good flats, or could've been they had an interaction with the mullet boat that either spent the night up there or got there way before the 6:35AM low tide since he drafted about a foot and a half, who knows?
We cast more than I ever have for a 6 inch croaker before heading downstream to "plan B" and after getting set up to fish a flat with a drop-off we interacted with a bunch of "smalls" and enough of these on 4 & 5wts,
to keep it interesting until the falling tide and freshening winds told us to head to the hill. We knew we were gonna get wet in the skiff, and did, but with the water temps just over 60 it felt more like early October than the first week of December.
Gonna hunker down this weekend and avoid as much of the weather and the crowds at the Core Sound Waterfowl Festival as possible and hope for more seasonal temps (anything shy of
snow and hard water
!
Good Fishing!!!
---
sorry to miss the day but i bet there were plenty of laughs and jokes with Hubert on the boat.
growing old ain't for sissies
Pure-T-Mommicked
---
You know it, especially when he went from deer hunting with Pee Wee (his nickname for Sarah) to getting bent and bowed up with the Big Possum in less than 24 hours.
Not sure which of us enjoyed it the most,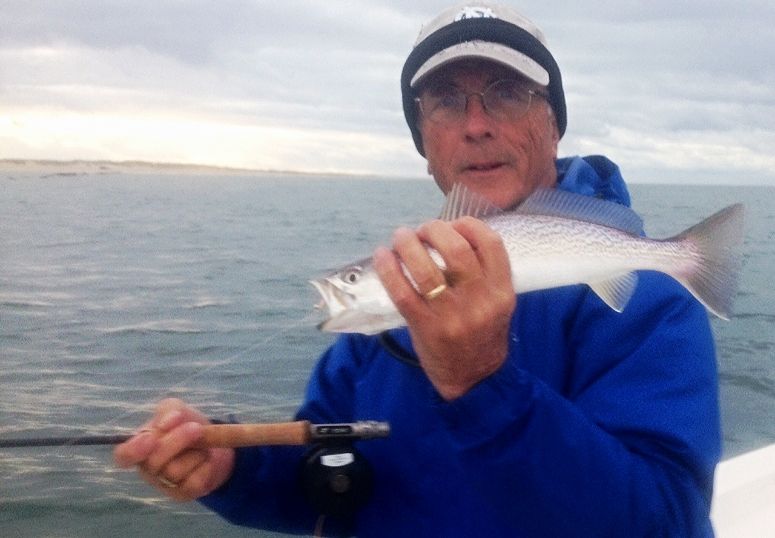 Hubert or me and Sarah, but I'm betting all of us would sign up for another dose of it in a New York minute!
Good Fishing!!!
---
Return to Morehead City - Atlantic Beach - Harkers - Cape Lookout
Who is online
Users browsing this forum: No registered users and 1 guest