Especially for two old boys that just couldn't get stuff wired tight til we took a boat ride in thick fog, dodging crab pots, pound net stakes and bridge pilings.
Lets see, Brian forgot his glasses, I had an extra pair in the Suburban, and I fogot my fly bag (thought it was in the boat) which Brian had to move to get to the spare sunglasses in my Suburban and we hit the creek with a small handful of flies, one spool of fluro, no pliers or forceps, and were wet from the fog.
Boys it was thick enough to hold in your hand!
Thanks to Lowrance, a decent set, and local knowledge, when we dropped the hook, wiped the water (calling it fog would be disrespectful) from our eyebrows and took 4 & 5wts outta the racks we went to
work
on a 5 hour rising tide shift that didn't disappoint.
We stayed busy with a decent class of specks in the 2 to 3 1/2 pound range and they were as full of piss & vinegar as any I've hooked this year.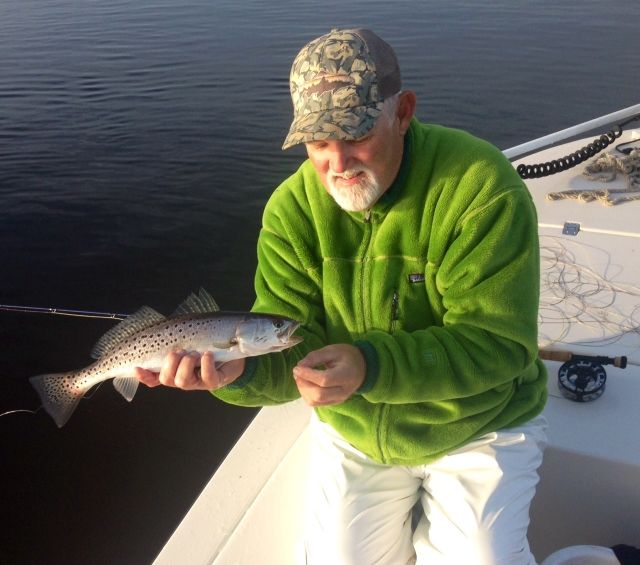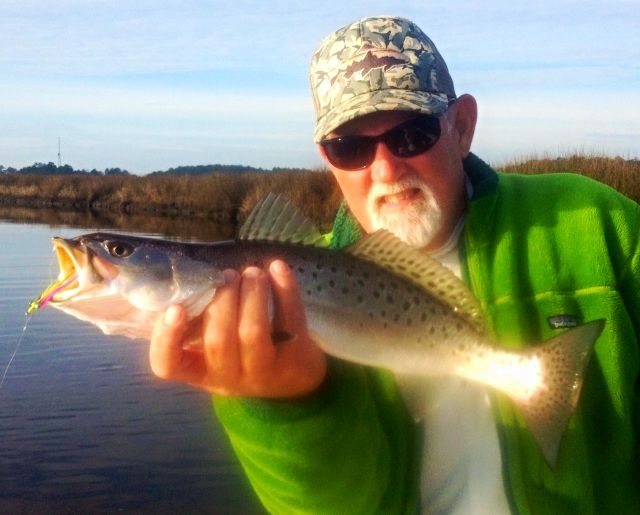 Even had a fellow pass by quietly heading to another spot tell us he heard about these flyfishing boys that had been catching a bunch of fish, so I hooked up to show him what it looked like.
Fishing was good enough that when we raised that little mushroom anchor and the Power Pole for the first time we were done for the tide, other than casting, releasing fish, taking pics (B's are much better than mine), taking a Coke Zero & M&M break, talking and laughing, we were steady at getting bent and bowed.
Eating oysters tonight at Harkers Island Tackle & Trading Post and will probably sleep good tonight like a good bird dog after a fine hunt as we whimper and jerk setting the hook on some toads as we dream of holding about 3 ounces of cork & graphite bent to the grips!
Good Fishing!!!
PS B's pics will be a lot better than mine, plus all my fish were bigger!!!
---
what can i say --good fish and better company
You do not have the required permissions to view the files attached to this post.
growing old ain't for sissies
Pure-T-Mommicked
---
Told y'all he had better pics!
Great time Brian, we get to do it way to few times, I had a blast.
Good Fishing!!!
---
WOW...there are some real nice specks!
Looks like a blast was held..what a nice day!
expelled by el Compressor
Emerson
---
Posts: 168
Joined: Mon Nov 30, 2009 2:07 pm
---
You sure all of those were specs? One of them looks like a small alligator. ..
---
Return to Morehead City - Atlantic Beach - Harkers - Cape Lookout
Who is online
Users browsing this forum: No registered users and 2 guests