Just as pretty a day you may ever see in November along the NC coast!
Good buddy, Greg Hurt, made it down for a long half day and we hit the jetty and made the most of it with specks (a few keepers to 16/17 inches), blues (mostly small with a penchant for trashing even more of my flies), small jacks, spots, black sea bass, and the guest of honor, the weakfish or gray trout (with plenty between 14 and 22 inches)!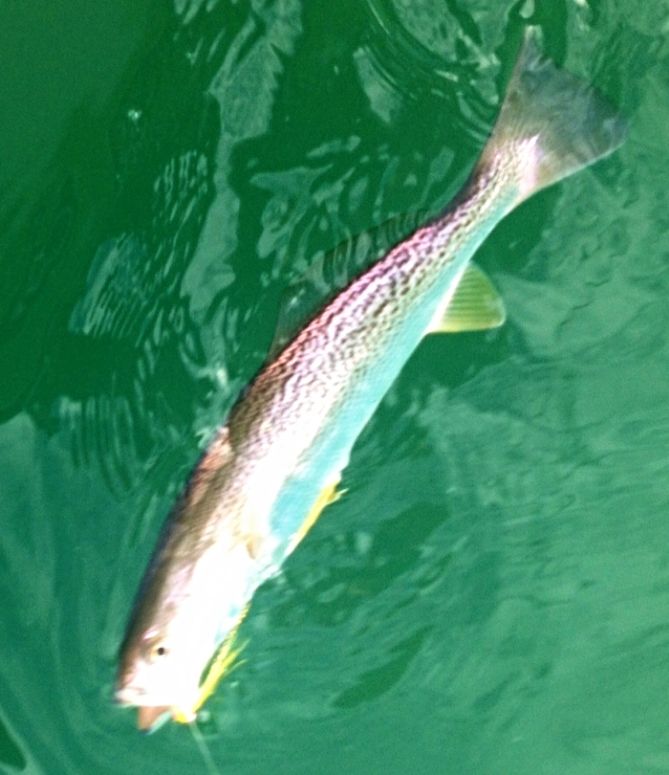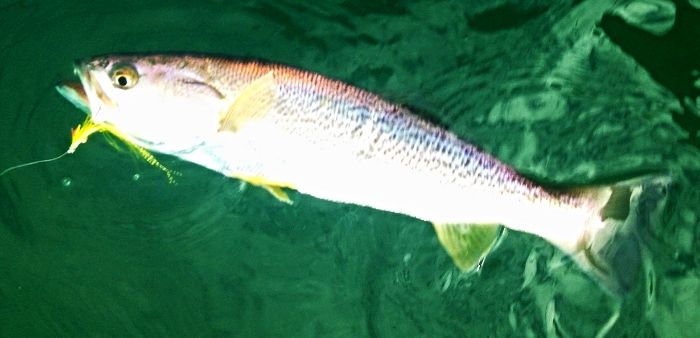 Greg with one from early in the day,
sorry for the lack of pics and the quality, we were pretty much busy from the time we repositioned once across the rocks till we pulled the hook and headed in around 1:00PM for a late cheeseburger and onion rings at Captains Choice on Harkers.
Still "slick cam" right now and hope we get to squeeze in Saturday morning, if not those rocks don't owe us one red cent!
4wts, 200gr sinktips, short 3 1/2ft fluro leaders (12lb), and pretty much any color combo of size 2 barbless Clousers did in obscene numbers for us and at least one other fly boat (Keith Johnson and a buddy from Raleigh). Just a damn fine time was had this morning and early afternoon.
Good Fishing!!!
---
I should have anchored up rather than keep searching in vain for Fat Albert. A very puzzling day. Was the weather too nice? Who knows.
---
think the albie fat lady has sung --but who knows
growing old ain't for sissies
Pure-T-Mommicked
---
Depends on water temps, bait, number of folks able to get out and look for em (and that number is shrinking daily as trout bite around marshes and on the ocean spots gets hot), and the forecast (which will keep folks from "off", just plain "off").
No doubt that fish are still out there, just that "out there" may not be worth the ride when the small skiffs are heading to the creeks and the bay boats and center consoles are heading to the "Rocks".
Hubert Parrott and I are either leaving the dock or launching the skiff at 6:30 and gonna try and squeeze in a trout trip this morning before snotty weather arrives around noon. If we keep weather at bay til 11/12 there will be some 4/5wts getting bent and bowed up!
At least we won't have to wear multiple layers of fleece under the rain gear & bibbs.
Good Fishing!!!
---
Return to Morehead City - Atlantic Beach - Harkers - Cape Lookout
Who is online
Users browsing this forum: No registered users and 2 guests