Yesterday was a tid rough with tons of albies, some on massive baitballs that were picky as I have ever seen. I have never intentionally left fish tearing into baitballs to catch some just chasing bait,
never, til yesterday
!
Had the pleasure of having the heart & soul of the Cape Lookout Fly Fishers onboard,
and they
assumed the position
even while cold and dressed appropriately like eskimos!
When Charley's Angels weren't doubled up Saturday they managed to go solo and were into fish after fish (except on those damn baitballs)!
Now we get into Sunday and it is safe to say that the folks at NOAA missed the forecast by about 6 or 8 hours, and even though my bedroom window screens told me as much at 5:00AM. 1 Angel made the dock at 7:30AM so by God, we went. Made the jetty to get reacquainted with some grey trout (weakfish) that we have been introduced to yesterday and they were there in numbers that led us to re-anchor 4 times in 3 to 4 ft seas until we just abandoned that foolishness for the calm waters of The Hook where we went 6 for 7 on scattered albies spending some quality time around what was a pretty decent crew of folks save for one old boy that trolled through the busting fish until he finally got bored, I guess.
The bite slowed with the tide and the wind was still to snotty head back to The Rock, so we dredged up a few trout and Jan Willis caught her first ribbonfish and a few lizards,
until the original NOAA forecast showed up and allowed us to drop the hook on a slightly different spot than we did yesterday, and for the last 2 hours of the falling tide and an hour or so into the falling tide a clinic ensued at a pile of rocks that hold a special spot in my fishing logbook every Oct/Nov. Thought I had some pics of at least one of the "bigs", but one of The Angels is evidently iPhone Intolerant, but here's smaller version of those yellow finned grays!
We broke out the 6/7wts with 300/350gr sinktips and had a blast with grays & blues and had 8 doubles, weakies to 4lbs along with the most generous bluefish ever, not one bite-off and very few flies rendered useless but those yellow eyed feather killers.
For once we fought the urge to head east, west, offshore, to the beach and out the buoy chain and when we left those rocks, happy as Hades, the only place we headed was to "the hill"!
Home for a nap, burgers on the grill, and a sunset on Harkers,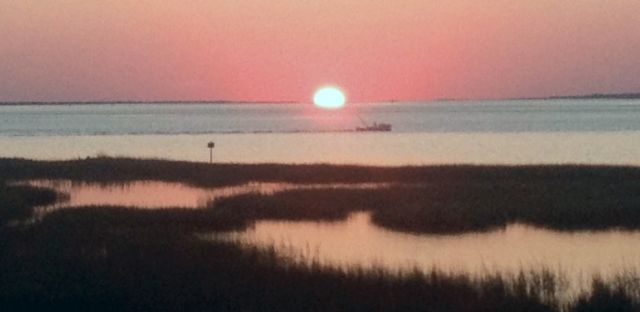 and that's how 3 days in 48 hours, courtesy of NOAA happens on an October weekend!
Good Fishing!!!
---
Return to Morehead City - Atlantic Beach - Harkers - Cape Lookout
Who is online
Users browsing this forum: No registered users and 5 guests