Last trip to the Eastard with Tommy Bennett and Doc Eiler didn't produce a bunch of fish, but the "bigs" were still at home! Folks I'm used to carrying 50lb bags of dog food up the stairs at home, and while I don't think this one quite made that, it was a PIG!
A little more under control! I whispered in her ear that "release was imminent"!!!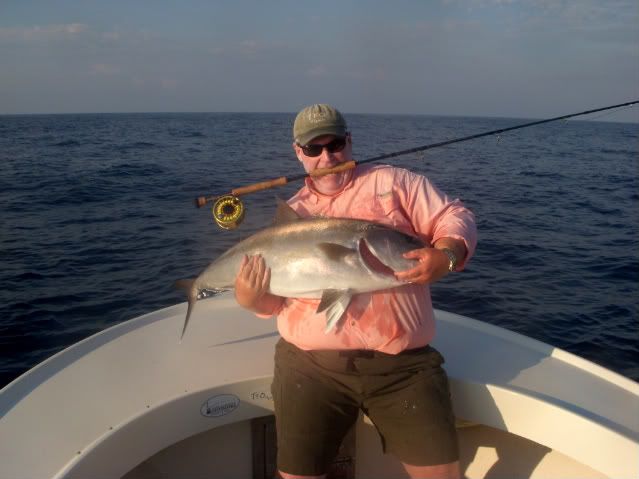 And for all of you thinking about it, it looks real nice Sun/Mon, so give em a shot if you can, but I'd be sure to carry a big stick!!!
Good Fishing!!!
_________________
Fish will eat feathers, so feed em some!
---
Need some motrin? BIG donkey.
The world is your oyster-
So show up with a knife and know how to shuck.
---
There were some honest 70/80 pounders within a rod's length of the boat! This one at a white Boilermaker Popper 25 feet off the stern after being teased with live shad (pogies)! It looked like somebody dropped a small car into the ocean!
Chasing spanish in the morning, I need something that I don't have to put on the reel, my belly still looks like somebody has beat me with a hammer! I'm taking a few days off from sharks and AJs, unless there are shrimpers off the inlet in the morning!
Good Fishing!!!
---
Chuck,
Wow, neat fat AJ's...especially having them eat on the surface...the best!.

70/80 pounders might really be a bit too much..but I sure wanna try!

Harkers is just a real special area...might have to expand my going from just October and November!!
expelled by el Compressor
Emerson
---
Very nice. I would love to try that.
Jeff G
Generally found under a bridge somewhere.
---
---
Return to Morehead City - Atlantic Beach - Harkers - Cape Lookout
Who is online
Users browsing this forum: No registered users and 2 guests