Starting Thursday the weather & tides finally came together for us down this way! Tommy Bennett put me into enough tailing reds to make it hard to sleep at night and the spanish and bonito have made you real happy if you don't mind leaving the dock at 5:00AM to beat the "touistas" to the near shore wrecks and ARs.
Fishing for spanish and bonitos was especially rewarding Sat/Sun as I had Doc Eiler, neighbor, retired vet, and recent patient on board for two great mornings! He was in ICU last Fri thru Monday having a stent and angioplasty and back on the water (with doctor's approval) less than a week after his procedure, a lucky man!!!
The target species for the 7wt!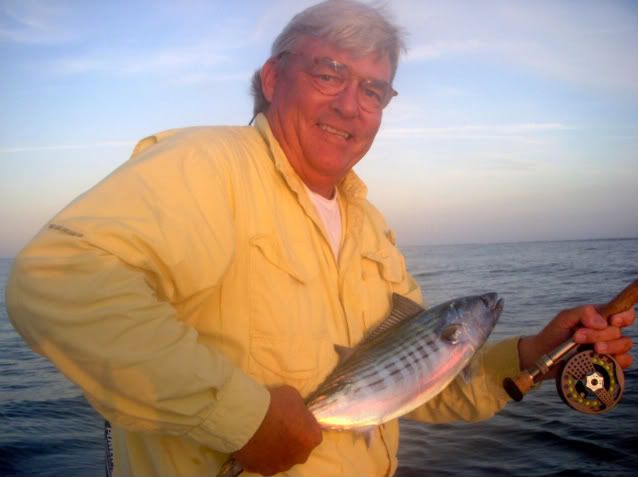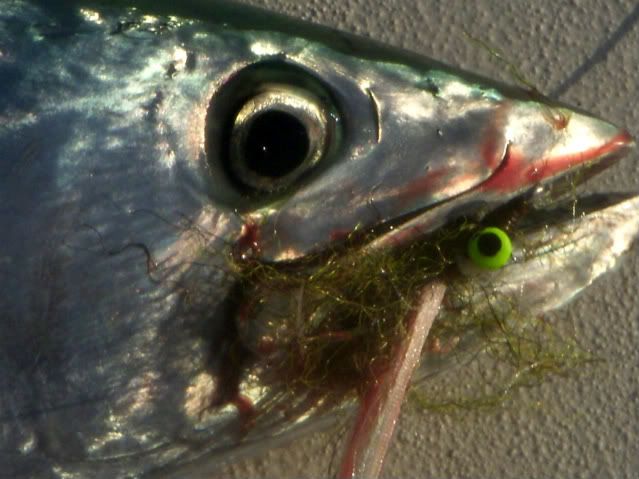 Saw Hugh down at The Fishing Center getting ready to sling some string, hope he catches some. Hope everybody else gets some pullage too, but remember why we have Monday off!
Good Fishing!!!
---
Thanks CHuck and glad to see Doc up and going strong!!
growing old ain't for sissies
Pure-T-Mommicked
---
>>> Great Pics. I gotta make a road trip n' see your reds.
---
Nice Chuck. I always wanted to catch a bonito on fly.
The world is your oyster-
So show up with a knife and know how to shuck.
---
Smacked em again this morning with Doc and his son Carter! What a perfect little fish for a 6/7wt!!! My camera battery went dead, but got this one pics of Carter bowed up on spinning gear, his new flyrod was in the boat, with his first Atlantic Bonito! Last Monday he was in the hospital waiting for word on his dad, both were well and happy this morning and so was I!!!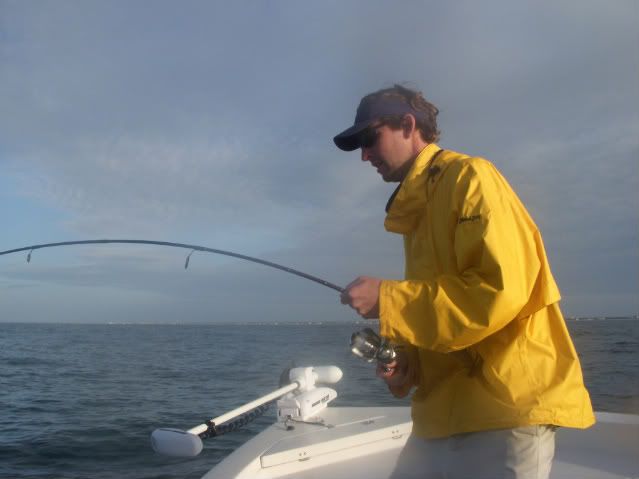 Good Fishing!!!
---
Looks like the best rehab program going!
Can't imagine a better way to recover.

Nice report and picks - that looks like fun.
Dave
the bus came by and I got on
that's when it all began
---
I went out both Saturday and Sunday and fed the petrels.
Caught some blues and a sting ray the size of New Jersey.
You do not have the required permissions to view the files attached to this post.
"You may attend a party where strange customs prevail."
- Fortune Cookie
---
Hugh,

Did you try offshore? Atlas? It was a family weekend for us, and right
now I'm boatless (getting a new CF23 in a few more weeks). We took the ferry
over to the lighthouse, and the eastside looked great. Tried surf fishing,
but got skunked along with everyone else.

Don
He who refuses to do arithmetic is doomed to talk nonsense... John McCarthy
---
Return to Morehead City - Atlantic Beach - Harkers - Cape Lookout
Who is online
Users browsing this forum: No registered users and 2 guests