I guess the Tool Designer and Cheap ass-ed genes are hard at it again this week. Been covering molding with my Engineering students as well. Got off on the quest for a dumbbell eye mold again. As with every good molding designing project I enlisted the Metals Teacher, Mr Joe Walker. He is a pretty accomplished practical Engineer in his own right. Did most of the mold design totally on his own after I shared the bullet mold and few other thoughts.
Started from the stand point of a bullet mold that has a shear to cut the spru and runner off.
Don't have pictures of the mold yet. Still refining. Here's some of the product.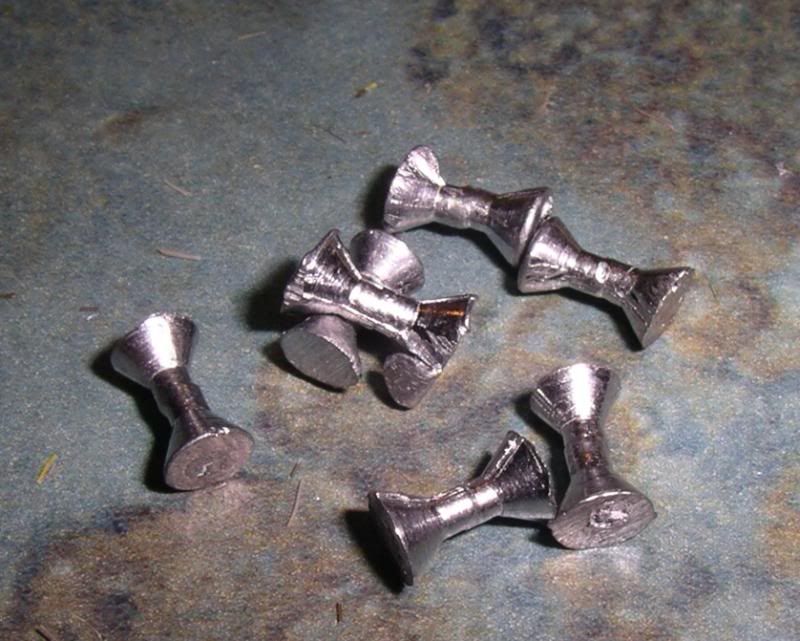 ---
Posts: 382
Joined: Tue Apr 21, 2009 12:16 am
Location: Bridgewater, VA
looks awesome. Ive been searching hi and low for a dumbbell eye mold but cant seem to find one. you would probably make some $$$ marketing it.
Bradley

"Spend it while you can, money's contraband, you can't take it with you when you go" ~ Jimmy Buffett
---
Posts: 314
Joined: Tue Apr 21, 2009 6:56 pm
Location: Woodstock Va, Shenandoah Valley
I'll Take one!
Put my order in early
Lee W
"Teach a kid to fish and give the gift of a lifetime of memories."
---
---
We've got to do some refinement in the mold itself. We did joke about selling em as a fund raiser. Not sure if the metals teacher was serious
---
Nice work Brad. As long as you are still in the design phase I'll throw this opinion out: I generally like dumbbell eyes that have a tighter Vee in the middle more than a level or wider middle section, they seem to have less tendency to rotate or shift. They seem to fit tighter to the shank with less leverage to rotate. I don't mean this as a criticism just a minor suggestion and there others that have tied many more than me who may disagree. It may not be possible to design the mold that way, but if so you could try it on your next prototype and see what you think. Allan
---
Who is online
Users browsing this forum: No registered users and 1 guest