Here are some new birds we have that have some realy cool hackle. Im thinking the rooster is going to make some type of cool Speck fly and the hen has endless possibilities. Any Ideas from anyone is appreciated.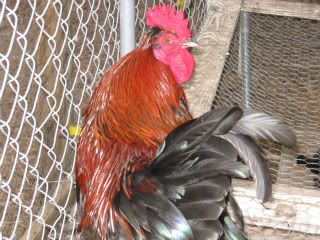 Once you kill a cow, you got to make a burger.
---
Posts: 1521
Joined: Tue Apr 14, 2009 2:05 pm
Location: Johnny Madert ---- St. Michaels, MD
Top: a rose comb, brown, fog-horn leghorn ??
---
That name has already been taken by another polish rooster. They have alarm clock problems. In other words they crow all the time.
Once you kill a cow, you got to make a burger.
---
My family has two pet peacocks, a male and female. The male has provided me with more peacock herl and sword feathers then i could use in 10 lifetimes. But whats cool are his other feathers that fall off such as the bright blue neck feathers, wing feathers and even the little ones on top of his head. I've used them in flies mainly for human attraction instead of fish, but the wing feathers are a good substitute for turkey. You should be able to get some good material out of both of them other than the neck and saddle hackle, just gotta use your imagination. I'd say the tail feathers on the rooster would provide some material for wet fly wings. Or how about using a few of the whole tail feathers for a monster saltwater streamer
?
---
Who is online
Users browsing this forum: No registered users and 1 guest