Fred has developed a product called Goo. It is an alternative to epoxy. It works easily, quickly and with no smell, quick set up time and ease of application. It is sticky when it has hardened so you need to put some Hard As Nails or similar but for those of us that are non-commercial tiers..no problem. I have used it 3 ways so far..more details of how and what it is..later..
1. I call this the traditional way..just like epoxy. I put the Goo on the head of this Baja Tuna Tux...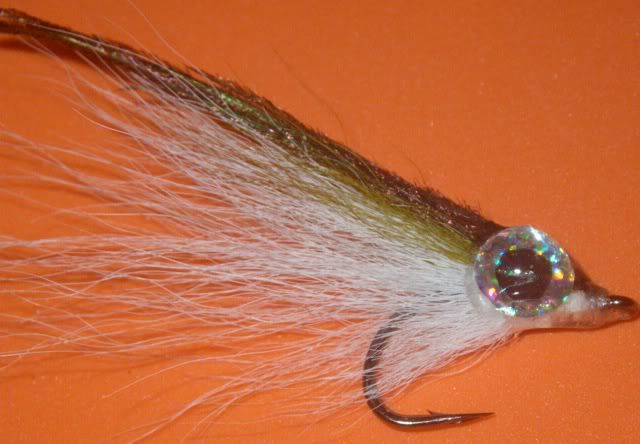 2. I put the Goo on the abdomen of this nymph. It gives it durability, depth and a more 3 -D look
Up close look..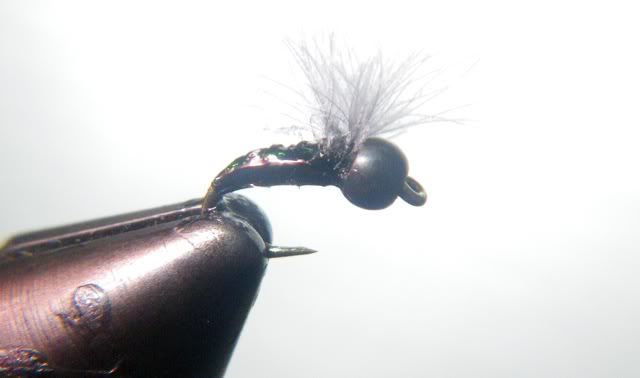 From a longer distance just to tell how small this fly really is..
3. This is my favorite way..I have made a mouse fly that did a great job in Alaska for rainbows...ask Hugh..it works! The only problem I had was the head gets weak and I tried different items....Goo works best
This is Mr. Mouse Goo Vitz
expelled by el Compressor
Emerson
---
So where can one get this goo?

I hate epoxy, I mean I really hate it. Anything that is easier with less smell is a good product to me.
Jeff G
Generally found under a bridge somewhere.
---
You are certialy welcome to PM me to get some more details on the Goo. It's some good stuff!!

Nice ties Emmerson...the lil guy is tuff to think about threadin some leader through!!!I'd need some better glasses me thinks!

Fred Slann
---
been using it more and liking it much more--
growing old ain't for sissies
Pure-T-Mommicked
---
Cool flys Emerson. I want to know how to get some goo as well.
Once you kill a cow, you got to make a burger.
---
PM fredslann

You will need to order the goo and a light

It works really well..just was using it again!
expelled by el Compressor
Emerson
---
Fred -
I have sent you a PM requesting more info re "the Goo".

thanks,
wlittlej
---
You said "light"..is this a UV product like Loon Knot Sense?
---
Yes..it is UV activated. I had purchased a Loon small light...way too small.. Fred has a nice light..it takes 3 AAA batteries...cures the stuff in a matter of a few ..like 3..minutes. It is well worth it!

The Loon stuff comes in that small tube..it works very well...Fred's is in a syringe and much easier to place exactly where you want it with very little mess..I am a messy person so it helps!
expelled by el Compressor
Emerson
---
Who is online
Users browsing this forum: No registered users and 1 guest