Posts: 1521
Joined: Tue Apr 14, 2009 2:05 pm
Location: Johnny Madert ---- St. Michaels, MD
Forgot to post this back in early Oct. I tied up a "large" bead shrimp (1/0) and tested it in the evening while wading the river. The rockfish wailed on it ... 17-19" specimens. A # 8 version was big time perch food.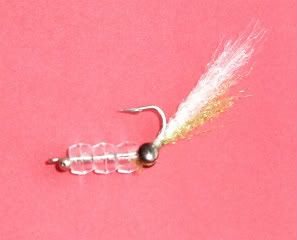 Yeh, it's crude but it works. Had trouble finding the appropriate size beads. These are too big, I had to tie bead-chain in the front to keep the beads on the shank. Or, you can build up a chartreuse thread-ball maybe. Heavy black brass eyes.
I recommend taking your favorite hook with you when you go to the craft store. Smaller
orange beads worked to perfection on a # 8 tiemco 200R hook for white perch. Used far less ultra-hair, more pearl krystal flash, and black bead-chain for eyes. Sorry, no pic because I lost it on the one little pile of rocks too deep to wade to. Will tie more over the off-season and post a pic.
---
Who is online
Users browsing this forum: No registered users and 2 guests