Fished for a few hours today over near Plantation Light and Cape Charles. Chased small stripers and found a few to play. Water on the eastern side of the Bay is beautiful right now and smelled like fish! Saw sea turtles, ton's of CNR's moving up and yes, Mr. Brownsuit himself. I was undergunned so was glad to just watch the few that I was able to see from atop my platform. I get back to the dock and a friend who was still out just south of where I was called in that he had 2 fish with one close to 90lbs. Water temps were 73-75 and close to 80 on the Poq. Flats. If the weather stays like this for a few days, might see the big push. Time to break out the 10wt's, bigger leaders and bunny hair!
---
Posts: 1521
Joined: Tue Apr 14, 2009 2:05 pm
Location: Johnny Madert ---- St. Michaels, MD
TK, are you tellin' us you went all the way over to PL & CC without a cobe rigged rod ?

Shame.

I have lost count of the times something "big" happened when I wasn't prepared.

You might be able to ride-a-bag right there on a late-day out-going.

90 lbs on a 10 wt .... eat your Wheaties, but quite do-able. Bring POWER-ade !!

I'd really like to see you score one like that.
---
There was a 10 minute self cussing period that took place as I left one of my big fish bags in the car. Glad there were no other boats close by with kids. I initially thought about looking for them but doubt overcame me at the last minute. Definitely want to try drifting with the bag over there. There were 2 perfect tide lines near the Baltimore channel as well as 3 freighters moored up. May have to wait until after the Holiday weekend crowd before I can really give it a go.
---
"Speak softly but carry a big stick" and wire to for that matter, will serve you well my friend!
I would bet that more cobes and sharks, even big drum are caught when something else was the main target. Ain't a boat or skiff made that won't hold another 3 or 4 ounces of graphite and a larger reel ----- and if you violate these rules, remember that a 60 pound cobe or a 45lb jack crevalle or a citation sized AJ can be landed on 6/7wts ---- it just takes outstanding boat handling, a great drag, the ability to stay calm when a lit firecracker is tied to your belt loops, and some luck, but it can be done and I have no doubt that you are the man to do it!!!
Good Fishing!!!
---
hell if i had a 5 wt i would of tried them --SOBX and i tried a bunch of 15 pound albies on 4 and 5 wts
growing old ain't for sissies
Pure-T-Mommicked
---
Tried Hell, best I recall with the able boat handling of the captain as an asset, you landed one!!!
Think this is the Xi3 5wt attached to a really nice 'core just off the Rock Jetty in the hands of "the man"!!!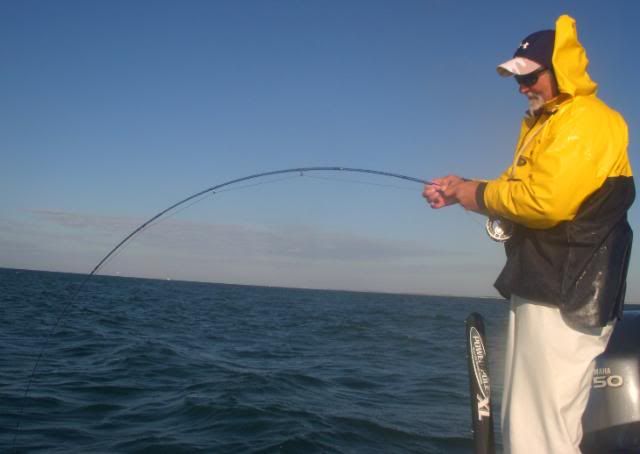 Couple of days before that I think we both landed some on 6wts, my 6wt was the same one that landed a 45lb (boga'd) jack crevalle, an estimated 45/50lb blacktip and several small cobes to 40 inches when they all showed up and crashed the party.
I would have landed a really nice 25/30lb dolphin if it hadn't jumped up through a grass mat and changed directions in mid-air and snapped my 12lb tippet, that's somewhere in the Flat Out video archives!
There's an 8wt around here somewhere that was part of the team that put a 6 ft bull shark on the leader behind some shrimp boats with Capt Donnie Hatcher at the helm (20lb tippet and a tid more wire than the IGFA would smile at, but the IGFA just won't on the boat when I looked back at Hatch and said "we gotta go --- now")!!!
Toss at em boys, you'll never know til you try and never underestimate what a good cappy can get out of a right fair angler that makes em both look look better than either would look alone!
Good Fishing!!!
---
Bummer but give 'em a shot with whatever you got. We have pulled in huge black drum on 6-weights. Just fight more off the reel and a little less with the rod!
Never let a cobia go unchallenged!
---
for the uninitiated - other than weight, what makes a cobia rigged rod -
i.e. ;
what line (sink, int or float0?
what fly?
what strip?
I am heading that way this week -
i will throw whatever i have at em if lucky enough to find them, yes, but would rather have the right rig.
KO- wed or thurs - let me know - would love company - one or both
Dave
the bus came by and I got on
that's when it all began
---
The world is your oyster-
So show up with a knife and know how to shuck.
---
The Z-axis #7 and reel combo was probably fine I was just being careful since I was out there solo . Believe me, I thought about how to get it done many times but the following scenario got stuck: Drive, stop, climb up on platform, spot fish, cast, no take, climb down, drive, climb back up, spot fish, cast (repeat as many times as need be)hook, climb down, chase fish with boat, get fish to boat, repeat multiple times etc... I was just playing it safe as i know I'll have more opportunities this summer. Had to be back to pick up the kids from school so time was not on my side either. Did managae to ignore the crackberry while contemplating my plan though.
---
Return to Tidewater / Lower Chesapeake Bridge
Who is online
Users browsing this forum: Bing [Bot] and 1 guest