Posts: 1521
Joined: Tue Apr 14, 2009 2:05 pm
Location: Johnny Madert ---- St. Michaels, MD
"i suggest something a touch smaller than that one".
Pete, listen to the Boss. When I had my cobe tethered, he looked at me and said: "see, be careful what you wish for".
Cutter, oyster toads are serious business. I spent 5 seasons trying to catch one. Scoured the Bay for most likely hang-outs. Finally caught one on a black clouser in St. Michaels harbor, about 3 blocks away from the house. I actually jumped for joy.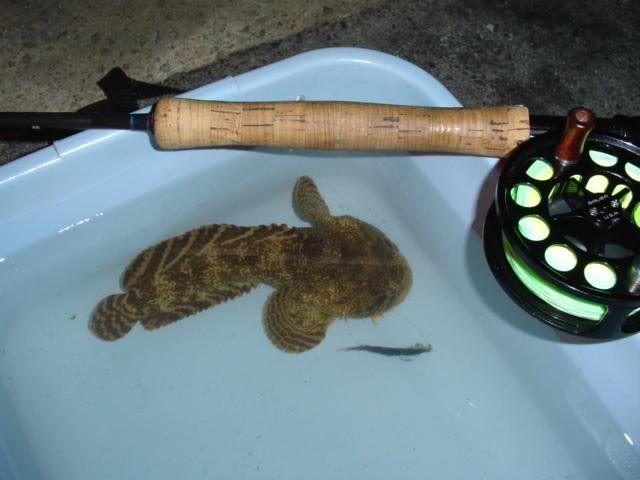 Deep jigging for sea robins is high sport, Dave.
---
John, I'm worried about you.

I'll settle for a big cobia.
"You may attend a party where strange customs prevail."
- Fortune Cookie
---
Hmmm
Black Clouser it is then
Good intel
thanks John
Dave
the bus came by and I got on
that's when it all began
---
Posts: 14
Joined: Thu Apr 30, 2009 4:00 pm
I had my first shot at Tarpon this past week. I was in Marco Island area for work and got out early one AM with guide Capt. Zumfelde. I caught several snook and jacks and wanted a shot at tarpon. A very patient game I learned. Waiting for a roll or sign of one and then quietly polling over to area last seen. Water was cloudy so made it more difficult. A 90 pounder rolled about 70 out into a slight wind. My cast landed at 65'. So she looked.... moved a little... and then dove out of sight. 5 more feet. Apparently for tarpon it has to be right on the fish or just past. I was so excited I just pushed cast too hard and of course this caused a lack of power and oh well. Maybe next year.
I will be in OBX as I am every year in August. Have fished with Sarah or waded or Yak'd the last 7-8 years and caught redifish, trout, flounder, blues, stripers, etc so want to kick it up a notch. We tried for spinners last year but no luck.
So Sarah if you are listening - I would like to catch a spinner on a fly as well as a cobia, spanish, or kingfish.
Jeff
---
Who is online
Users browsing this forum: No registered users and 3 guests