Posts: 314
Joined: Tue Apr 21, 2009 6:56 pm
Location: Woodstock Va, Shenandoah Valley
Keep it simple, you can always grow.

Bradley and I (bcflyfisher) just rented surf yaks this past august at the obx.
I made 2 boxes out of milkcrates and wiretied angle cut pvc pipes to the sides as rod holders. they held our gear and more. got a little anchor and we were set.

Check out the posts on the board there is lots of info and tips here to get you started or even go overboard.
Like the Camera Mounts (MB82) and fishfinders mounts (HH65)

I came across a website the other day it was out in california that had a lot of stuff for your yak to accessorize (sp), if I find it I will post it.
But I havent seen any books on Yak fishing yet.
You do not have the required permissions to view the files attached to this post.
Lee W
"Teach a kid to fish and give the gift of a lifetime of memories."
---
Well put by Jeff. I have found with sound side fishing I can load it up and no problems. When I beach launch I have to keep it very simple. One good role heading out or back in and it all needs freshwater asap or its done. I do enjoy all the creativity in kayak fishermen and how they are willing to share it with one another. Corys ideas are where I got most of my ideas and work awesome.
Once you kill a cow, you got to make a burger.
---
Good stuff fellas. Keep it coming...
---
One thing I will add to Whalers kit is a good sharp knife, preferable to me short( no need for a machete). For more then just changing flys when bluefish only chew the fly up but don't cut it off for you. If you drop anchor and get it hung up in fast water your boat could get pulled under. Earlier this year this happened to me and a buddy( at the same time) Lucky for me I got my anchor unhung, my buddy on the other hand got right above his anchor it would not budge we tried a few things to get it out and no luck. So out came the knife and cut the line. While I was doing this water was coming over the side of his kayak. BTW if anyone finds a plastic coffee "can" filled with concrete anchor just above I-95 on the James River could you return it to me?
Yes we could have let the line go but unfortunately it was so tangled it would not fit through the ring for his anchor trolly.
Jeff G
Generally found under a bridge somewhere.
---
I saw that some of the guys who fish for "big fish" (billfish, etc.) have line cutters at the ready. Probably not a bad idea for a number of different reasons, like you mention. Sometimes a "Nantucket sleigh ride" might get a little too wild!!!
---
If you only knew the half of it. You were not cool at the symposium unless you had caught a 50+lb striper or Redfish from a yak. They have quick releases for there ancors that have floats so they can come back and get them. Hence going for a sled ride.
Once you kill a cow, you got to make a burger.
---
I'm not one of the hard core yak guys, but have been fishing from my touring kayak for well more than a decade and have caught hundreds of fish.
To me another big plus of kayak fishing is stealth! In places I could more easily and comfortably get to with my skiff, I know I will catch more with the kayak.
I think about getting a fishing kayak (and we sell them in out store) and proabaly will someday, but my touring boat works fine. I can only take two rods, and better with only one if it is rough, BUT I can go farther faster, be warmer in the winter, keep legs out of sun, and use the boat for touring as well. So consider all your possible uses, and remember you can fish pretty well from any boat. Ditto the "keep it simple".
Most important recommendation
- try before you buy - in real water.
Good luck and enjoy
Dave
the bus came by and I got on
that's when it all began
---
A simple rigging for keeping big fish on the yak is to make the cross of two lines with the tag coming out right next to your hip. You then bring the fish to the other side of the yak, run the line through the mouth and gill plate and then swing the fish behind you while pulling on the tag end of the line
this will secure the fish (out of your way) and will keep the fish even if you spill while returning in the surf
simple, effective and I have used it to secure rather large fish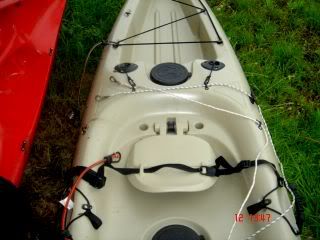 notice my yak has very little on it
pair of pliers, clippers and rod holder
I will tell you the story of how too much stuff cost me a torn rotator cuff and two years of rehab
IF YOU GO IN THE OCEAN< KEEP IT SIMPLE>
Woody
It is certain that an atom of goodness on the path of faith is never lost.
Rumi
---
Who is online
Users browsing this forum: No registered users and 2 guests