Had the great pleasure of meeting up with wgmiller and ecks today to fish a bit around prop slough and the pond. Always great to meet new forum people. Geof wish I could have shown you more this week. ecks I can show you some more spots if you want. Conditions were perfect at the prop slough. Did talk to some people who did quite well. One guy landed a 6lb pup. I managed a first for me at OI what im pretty sure is a ladyfish. Quite the hoot on the 6wt.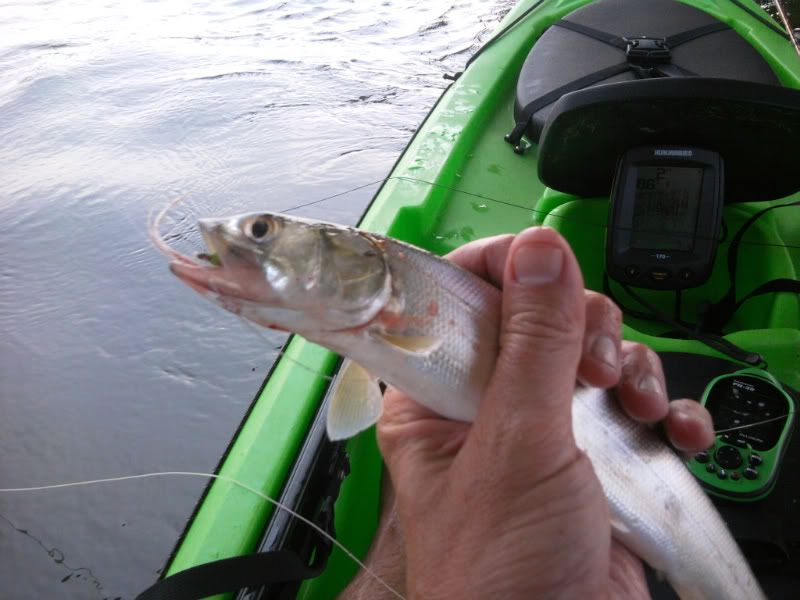 Beer, pool and nap now.
Once you kill a cow, you got to make a burger.
---
Totally Cool! I'd heard rumors of ladyfish by the Wanchese jettys but thought them false...I guess you proved them right! Neat catch!
---
Posts: 1521
Joined: Tue Apr 14, 2009 2:05 pm
Location: Johnny Madert ---- St. Michaels, MD
Yep, another new species goes into the books. Nice.
---
I call photoshop. Tracy doesn't have the luck to catch fish
Jeff G
Generally found under a bridge somewhere.
---
It was on the Fli and I have witnesses!
Once you kill a cow, you got to make a burger.
---
we
have hooked about 20 ladies on jigs but yet to land one --pretty work Tracy
growing old ain't for sissies
Pure-T-Mommicked
---
Good ole chart/white clouser. Sarah has told me they make a showing once every so often. Wish they would become regulars to our area. They put on a great show once hooked.
Once you kill a cow, you got to make a burger.
---
Tracy - I'll file a report shortly; I'm trying to get settled in and return to my pre-vacation life
---
I had a great time fishing with Geoff and Tracy. Tracy, I'm down all this week, maybe we could hook up again. Shoot me a pm if u can go out again. Geoff, it was great, thanks for helping a kayak newbie.

Ecks
---
MB82 - I heard some splashing and looked over towards Tracy's boat. I saw one hand in the water and the other reaching in his dry well to pull out a fish!
In all seriousness, it didn't take him long to catch that fish after cruising under the Bonner Bridge.
Ecks and I met up at 06:30 to fish. We set sail from the marina and paddled along the edge to the Blossie's area. We fished some of the creeks on the way up with no luck. Some big splashes, but no fish. Our next stop was Blossie's behind the lighthouse. Here Ecks hooked up with several specks in the 12-14" range as well as a few croakers. As typical in my world of fishing, I got a lot of casting practice, but that's about it. I did have a hook up or two, but wasn't able to get anything to hand. I was using a 1/0 Clouser in black/orange/copper as well as a chartreuse/white. In retrospect, I may have been a bit too big and should have been in the 2-4 range.
After fishing this area for a bit, we headed back down to meet up with Tracy. The wind kicked up out of the northeast/east and our return paddle was quite a workout! Kinda like one stroke forward, two strokes backwards! We met up with Tracy at the marina and headed out to the Bonner Bridge area. By this point in time it was early afternoon and Ecks and I were pretty much ready to get off the water. I love fishing, but my love for it can only endure what my butt can while sitting in a kayak! So we headed back and called it a day.
It was great fishing with Ecks and Stacy and perhaps next summer will result in a return trip and some fish! While this trip was relatively unsuccessful for me, I had one success story and that was hooking a 10" flounder from the surf on a black/orange/copper flash OBX Clouser. I wasn't a believer until I saw the fish make a run up the beach after it!
There is much to learn when it comes to saltwater fishing and while the fish may be less picky than freshwater trout, finding them is the tough part. I'd much rather fish to saltwater fish than tie on a #26 trico and try to convince a wary freshwater trout to take my offering. I'd love to make it down more than once a year to fish the OBX...
Here's a few pics:
Ecks gettin' his groove on behind Bodie
The result - a nice little speck
White heron with Bodie Island Lighthouse under rehab in the background
Tracy making his way to the Bonner Bridge area
---
Who is online
Users browsing this forum: No registered users and 1 guest