Been working on some maps for our club and this site. Here is the south end of Oregon Inlet. What does everyone think? Based my circled areas off of past wading experience. By the way anyone who has not fished these spots please use caution. Lots of sucker wholes and drop offs here.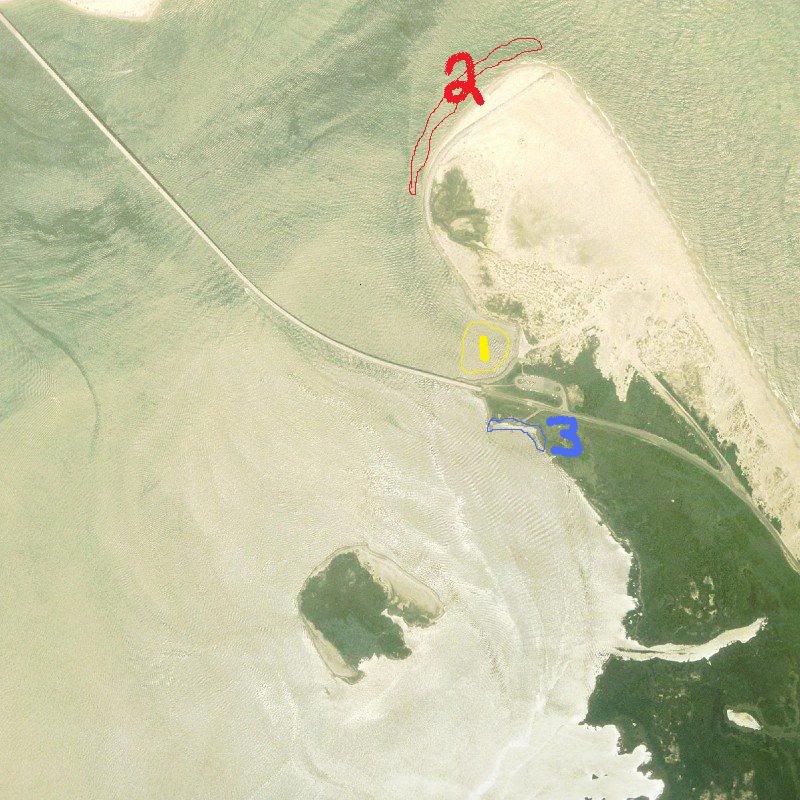 1 Yellow is what I call the flat
2 Red is off the jetty
3 Blue is Green Is slough
Once you kill a cow, you got to make a burger.
---
Tracy,
Have you ever walked out to #4? We use to walk along the major trough (south east side)..be careful as it drops very steeply and as the tide is leaving..the water is cookin'..it will take you away in a second. All along the trough are fish..mostly caught were my specialties...NEEDLEFISH but still fish. Once you get to the point...there is a huge drop off on the NE corner...this reminded us of the sod banks in New Jersey. We caught a few stripers there and saw a few monsters!! You must fish from on top of the sod bank..one step off the sod bank and your buddies will be rescuing you!
You can also consider this the workout for the day as it is a long walk in the water...no problem crossing the creek.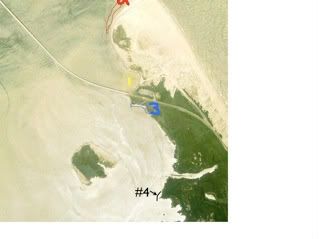 still figuring out photo bucket..trying to get it larger but hopefully you can tell where I mean
You do not have the required permissions to view the files attached to this post.
expelled by el Compressor
Emerson
---
Posts: 15
Joined: Tue Apr 14, 2009 2:10 pm
I fished #4 SUPER flounder spot last year. Walked out to that area last summer. The bank looks like trouble though and was very nervous....
---
Thanks for adding to Emerson. I have not vetured out that far wading. Paddling to it via my yak would be alot easier and safer. I will give it a shot. I saw some gator trout hauled out of that spot 2 years ago.
Once you kill a cow, you got to make a burger.
---
it ain't a bad wade there just take stime. That is the spot i used to fish in 80's and early 90's --usta be the best speck fishing anywhere. On around the corner is a nice flat for wading with a few sloughs mixed in.
growing old ain't for sissies
Pure-T-Mommicked
---
Even with a kayak and out going tide...very tough...totally agree on the banks...do not step on the edge...

We were fishing there once and the Capt of the Nags Head life guards was there. Do you know where the old ferry dock was?..it is like a cylindrical bunch of pilings. The Capt said that he has a bunch of super swimmers and not one could swim out to that against the tide!! It is almost within casting range from shore.

The waters there are very dangerous but there can be great fishing!

We use to walk out to the end of the jetty to fish...One time and one time only it was super. We had stripers hitting clousers and poppers non-stop for about 1.5 hours. Me being me, recorded the time..relative to the tide and we returned numerous times, at the same "good" time....BFZ (Big Fat Zip). Sometimes there was so much weed that you could not even walk!
expelled by el Compressor
Emerson
---
I saw a kayaker go zipping by me last summer as I fished from the jetty on out going tide he mannaged to beach it at the end of the jetty by the shoals.
Once you kill a cow, you got to make a burger.
---
Posts: 15
Joined: Tue Apr 14, 2009 2:10 pm
In #1 are wading out to the drop off in the channel or are fishing up on that small flat next to the pilings sticking out of water? I have been told they catch fish UP ON FLAT around pilings is that true?

In picture #2 I know that sand bar that has built up on inside of the jetty there, are you letting the fly swing in the current with a sinking line? I have never fished each. I have fished off the jetty itself and got some blues once. Do see people fishing along there and the point just west where picture #2 starts.
---
Who is online
Users browsing this forum: No registered users and 2 guests