Em,
I have seen you wearing the buff in your pix, and I have wanted to ask you about them. Understanding that the intent is for protection, is there a downside like wearing a bandanna. In the heat of the day, something around my neck drives me nuts. How quickly did you get by that or was that not an issue?
---
Tom,
I really do not like hats or turtle necks..perhaps due to size of item they are covering
But...I had a cancer thing cut out of my face a few years ago with all people screaming for sun screen...Dr..wife etc.
I looked into sun shirts, hats and then read and saw the Buffs. I figured that I would try one in Baja...there the sun is relentless but I was afraid that the heat would wipe me out with something around my neck holding the heat in.....WRONG!
IT DID NOT BOTHER ME AT ALL! I was not hot..it kept the sun off. The temps were near 100. If you feel the sun frying your ears..just pull it up. It will cover your head to down around your neck and up around your mouth. If I am going out for a long time on a boat, I wear one. If I am fishing a stream...I try and remember to wear them.
When you go on the Buff site...search around for the sun ones and you can pick from a ton of colors..I have a couple of them...due to gifts from my wife who wants to make sure I wear it! They even show you how to use them..not rocket science though.
I ordered them from the site..It took 2 days to get it!
Here we are landing in Baja..my Buff is over my hat..total coverage of ears, neck and chin..
You do not have the required permissions to view the files attached to this post.
expelled by el Compressor
Emerson
---
Thanks Em. That is what I wanted to hear. I am going to get a couple.
---
Good work on getting used to it quickly. Here are a few tips for hot weather.
1. Drop the Buff/HAD into the cooler and really cool off and provide sun protection at the same time.
2. For those 105 degree days at Loreto, big Tom Merritt would slather on sun screen and wear the Buff/HAD around his neck with several pieces of ice wrapped up in the folds and said it was like air conditioning. From then on we'd wear one regular and one with ice around the neck.
3. Breathing sometimes will cause sunglasses to fog in light winds (while wearing these things) so learn to exhale through your mouth if that happens or just slow down and enjoy fishing and breathe slower. It is not a problem while running or in the winds that follow me most of my fishing life!
4. If ice and a cooler aren't around, just dip the Buff/HAD into the cool blue sea and let normal evaporation cool you off.
5. It is much easier to get used to a Buff/HAD than it is to get used to having parts of you cut/burned/frozen off and then waiting for the biopsy results!
6. Still visit your doctor annually and more often if rough patches, sores, unusual moles, or discolorations show up!
7. You cannot use to much sunscreen or to high a number sunscreen and do check for UVA and UVB (think that's the 2 acronyms I think) that get you.
8. Remind others what the sun can do and always take care of the kids fishing with you!
9. If you fish barefoot, please remember to use sunscreen on the tops of your feet, don't ask! If you are a Croc fan, refer to the first sentence after you see the red dots on your feet when you shower. I've lost some weight and they are more visable now!!!
10. Spread the word, skin cancer is probably the most avoidable and in early stages one of the most treatable cancers.
Good Fishing!!!
---
Thanks Chuck great topic--close to my heart
growing old ain't for sissies
Pure-T-Mommicked
---
---
Tom needs this one:
I will start wearing one of these. I have very fair skin and burn easily. I have already had several Squamous cell and basal cells cut off. Those are pretty harmless, but melanoma can be very bad as many of you know. If you go to the dermatologist to get things removed, be sure they cut them off and submit for pathology. Too often, skin lesions are frozen or otherwise destroyed under an assumption they are benign. Some are not. My father-in-law had a lesion on his arm frozen 4x over a year by his doc and it kept coming back. I biopsied it and it was melanoma. Unfortunately, some docs just don't worry enough about this stuff.
The world is your oyster-
So show up with a knife and know how to shuck.
---
I thought they all took enough to biopsy before "freezing" the rest off Cutter. Thanks for the heads up, by God I'll ask from now on for sure!
Here's the "dolphin" edition in use on the Roanoke, one ear has popped out, but y'all get the drift.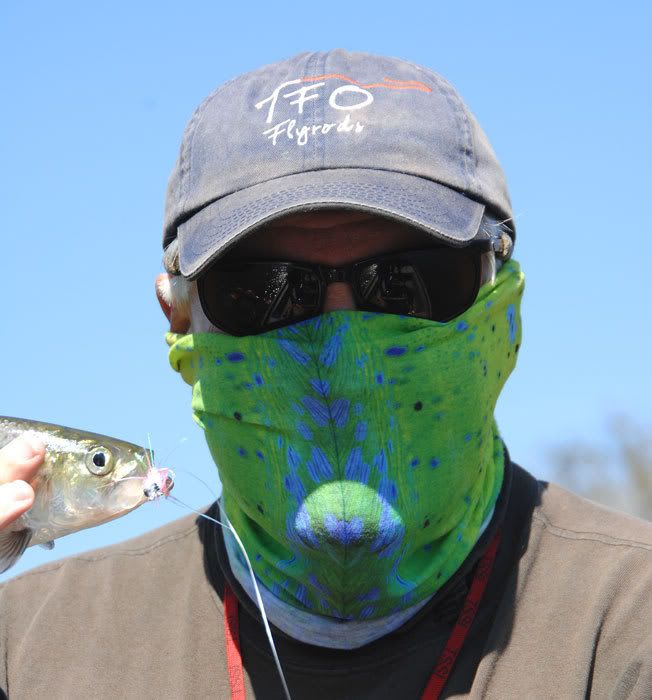 Good Fishing!!!
---
hey ya'll....
as i lay/sit here on my living room couch for the next projected 3-6 weeks... recovering from skin cancer surgery..... i can only pray that all of ya'll take this scourge seriously.
i've been going to the derm's for nearly 30 years now... i actually look fwd to the nitrogen, beats the hell out of the knife. i can only guess that well over a 1000 have been removed from me... all thank god squamous and basil... no melanomas.
years ago after the first skin graft to replace a lower eyelid, i was told my outdoors lifestyle was dangerous to my health.... sun = burnt wally. years ago i made the decision to live my life with "protection", but still live my life the way i desired.
over the years i have developed a system of sorts that reduces exposure... be aware that there is no perfect regimen short of living in a bomb shelter 24/7.
1) before leaving the house in the am.... lather up sunscreen.
2) i know it sucks, long sleeve shirts. i like the columbia bahamas & simms superlight styles.
3) pants.... there are plenty of lightweight styles that offer spf...
3) big ugly dorky hats... dorkier usually = better
4) simms sungloves and until recently sunclavas.
5) now ....
BUFFS
... two years ago i was intr'd to them by a good customer, joe w. they are now not only in the shop but they are a goto whenever i'm out on the boat or for any extended periods of sun exposure.
last october i had the pleasure of visiting harkers and fishing for two weeks. i probably should have gone to the derm to examine an issue on my nose... upon my return i "missed" my quarterly exam. went to the reg doc and he expressed concern... sent me to a mohs surgery specialist in hickory. last week most of the left side of my nose was removed and replaced with a live skin graft from my forehead.... weird shit for sure, blood vessels and nerves rerouted with a "tunnel" of sorts that will be surgically removed in the weeks ahead.
i'm friggin miserable. this really bites. naturally, i'd rather be out on lake james chasin' smallies.
if you haven't already done so, i encourage you to get a sun plan.... sun damage is a scourge.
all of that said..... i look forward to seein' ya'll again down east on harkers come oct/nov '09..... i'll be the one that looks like a mummy.
wally...
---
I love the things-wear them fishing/hunting and to stop pollen when mowing grass. Stops sun and windburn. Half inside out they form a tube-put ice in it and put it around your neck-instant cool. Think Baja or Pamlico sound in Aug!
---
Return to Flat Out and Fly Girl Reports
Who is online
Users browsing this forum: No registered users and 7 guests